Ten-year-old Carnell has been hanging out with Charlie and Cheryl Thomas since October. During that time with them, he's fed horses, gone sledding and played a few card games.
"I go out to their house, sit by the fire and relax, drink hot cocoa and they take me around in their Gator," a farm utility vehicle, Carnell said last week. "They're very nice people, and they take good care of me."
Carnell is lucky. He was matched with the Thomases by Big Brothers and Big Sisters of Douglas County after less than three months on the waiting list. But as of last week, there were 167 local children - including more than 120 boys - still waiting. Some have been on the list more than a year.
"That's a lot of kids who are waiting for people to volunteer," said Becki Carl Stutz, director of the Douglas County organization. "So many of these kids don't have stable role models in their lives. They just need to have another adult to support them and be their friend, and to show them that there are options."
One child who has been waiting a long time is Nick, a video-game loving 8-year-old who lives in Lawrence. His single mother, Laura, spends much of her time working with her younger son, who has autism. The Journal-World agreed to withhold the last names of children and their families in the program.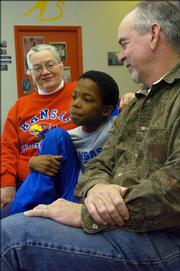 "Spending quality time with Nick is very difficult," Laura said. "I think he could really benefit from a big brother."
There are two types of Big Brother and Big Sister programs:
¢ "Bigs in Schools": Mentors spend a half-hour a week with a child at school, usually a lunch or a recess. Volunteers are asked to commit to a full school year.
¢ The community-based program: Mentors spend three hours a week with a child, for a full calendar year.
The Thomases participate in the second program, regularly bringing Carnell out to their farm west of Lone Star Lake. The couple was looking for a community service opportunity before deciding to enter the program.
"There is a sign outside Big Brothers and Big Sisters saying how many people need to be matched," Charlie Thomas said. "That kind of touched our hearts, and we said, 'We can do that.'"
Carnell has four siblings, three of whom already have mentors. He hopes other children on the organization's waiting list don't stay there long.
"Everyone that's not matched, I wish ... that there could be a pair, someone else, to match those people up," the fourth-grader said.
Laura, Nick's mother, shares that hope.
"There's just so many kids who need that mentoring," she said. "It can really make a huge difference in children's lives and, hopefully, Nick's life."
Volunteers needed
Volunteers for the Big Brothers and Big Sisters program must go through an application process that takes five to six weeks, including interviews and background checks. To volunteer, call the organization at 843-7359.
Copyright 2018 The Lawrence Journal-World. All rights reserved. This material may not be published, broadcast, rewritten or redistributed. We strive to uphold our values for every story published.