Colin Kappelman, a senior at Lawrence High School, was recognized at an Eagle Court of Honor ceremony Nov. 20 at the Dole Institute of Politics. He is a member of Boy Scout Troop 59, chartered to First Presbyterian Church.
As a Boy Scout, he earned 27 merit badges and participated in camping and high adventure outings at the H. Roe Bartle Scout Reservation, Flat Tops Wilderness Region and Philmont Scout Ranch. He also went canoeing on the Niangua River. Colin earned the World Conservation Award. During his Scouting career, he was a patrol leader, librarian, den chief and a staff member for Cub Scout Day Camp.
Colin is the son of Brenda and Clay Kappelman, Lawrence.
¢ Scott K. Hird, 17, was acknowledged at the annual Eagle Scout recognition banquet Oct. 25. The dinner honored all Scouts in the Pelathe District, Heart of America Council, who advanced to the rank of Eagle during the past 12 months.
Scott entered the Scouting program in 1996 as a Bobcat and then advanced to the rank of Eagle as a member of Troop 55. His Eagle Court of Honor was in May.
He earned 24 merit badges. He received the Mile Swim Award, World Conservation Award and Snorkeling Award. He also was recognized for completing junior leadership training. Scott served in the following leadership positions: patrol leader, scribe, assistant patrol leader, assistant senior patrol leader and senior patrol leader.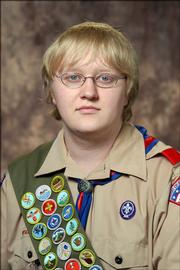 He was inducted into the Order of the Arrow and the Tribe of Mic-O-Say honor camping societies.
He participated in programs at H. Roe Bartle Scout Reservation from 2000 to 2004. He went on the following high adventure programs and camps: Fifty Miler Hiking on Katy Trail, Wichita Mountains in Oklahoma, Richland Creek Wilderness Area in Arkansas, Indian Caves in Nebraska, and Rocky Mountain Skiing.
For his Eagle project, he supervised the design and building of a fire pit and meeting area at the Fraternal Order of Police Lodge.
Scott is a junior at Lawrence High School, where he is involved in concert choir, track and student council. He is the son of Debby and Rick Hird, Lawrence.
¢ Mitchell Clark, Matthew Rytting and Jed Young have achieved Scouting's highest rank, Eagle Scout. They will be honored at a Court of Honor at 7:30 p.m. Dec. 28 at the Church of Jesus Christ of Latter-day Saints, 3615 W. 10th St.
Mitchell, son of Doug and Ginny Clark and Kathy and Danny Drungilas, of Lawrence, has been a member of Troop 58 since 1999. He has served as historian, scribe, librarian and assistant Scoutmaster. For his Eagle project, he made school kits that were sent to the Humanitarian Aid Center in Utah for distribution to school children worldwide. Mitchell is a senior at Lawrence High School.
Matthew renovated the Tate Garden at Lawrence High School by repainting benches and tables, weeding and adding new plants. He started Scouting as a Cub Scout in Pack 3058 in 1995 and joined Troop 58 in 1999, where he served as a patrol leader and assistant patrol leader. He is the son of Howard and Kay Rytting, of Lawrence, and is a freshman at Brigham Young University.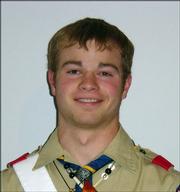 Jed, son of Kevin and Sandra Young, of Baldwin, chose to strip off the old paint and repaint a house for a nonprofit organization as his Eagle project. Jed started Scouting as a Cub Scout in Idaho and joined Troop 58 in 1999. He has been an assistant patrol leader and senior patrol leader. Jed is a senior at Baldwin High School.
¢ Boy Scout Troop 62, chartered to the Linwood Lion's Club, recently had troop elections. New officers are: C.J. King, senior patrol leader; Brian Pemberton, assistant patrol leader; John Hopkins, treasurer; Skylar Ross, chaplain's aide; Ryan Ellis, photographer; Logan Ross, scribe; Levi Draper, librarian; Clinton Kissinger, O.A. representative; Josh King, quartermaster; and Ryan Ellis, bugler. Tyler Thomas is the new assistant Scoutmaster.
The troop has adopted a family, who moved to Kansas because of the effects of Hurricane Katrina, for Christmas. The troop delivered gifts to the family on Dec. 18.
During the first snow of the winter, the troop hiked five miles on a hilly dirt road.
The troop also presented many awards during a recent Court of Honor.
Copyright 2017 The Lawrence Journal-World. All rights reserved. This material may not be published, broadcast, rewritten or redistributed. We strive to uphold our values for every story published.