What's so fun about a traditional punt return, anyway?
Brian Murph apparently wanted his rare crack at returning a punt to be interesting. So he muffed it.
"The ball bounced off my chest, and I picked it up," Murph said. "I saw the line, so I just ran. We had good blockers, and I just ran for the touchdown."
By the book, right?
Murph's 85-yard punt return for the score sparked Kansas University's football team to a 42-13 victory over Houston in the Fort Worth Bowl on Friday.
Murph dropped the ball at the 17-yard line, scrambled after it and picked it up at the 15, then saw an opportunity open up. He sprinted up the left sideline with the help of blockers, then cut back inside through a thin seam and found himself with nothing to fear for the last quarter of his 85-yard return that finished back on the right side.
Murph was also the recipient of a 48-yard touchdown pass from Jason Swanson to account for KU's final score. But the talk of his day was the return, which put Kansas up 7-0.
Photo Gallery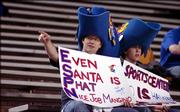 Fort Worth Bowl: KU vs. Houston
"It has happened a couple of times in practice, but not like that," Murph said. "Not for a touchdown."
Funny thing is, the play was designed to be a little bit of trickery. Murph was supposed to catch it and hand it off to Mark Simmons. Instead, he had to run for his life. It worked well.
"I'm not going to say that (the muff) helped because he might think he should do that every time," KU coach Mark Mangino quipped. "Any time the ball is falling out of the return man's hand, it's a scary feeling. But he picked it up, the kids stayed with the wall and stayed on the blocks, which was really impressive.
Copyright 2018 The Lawrence Journal-World. All rights reserved. This material may not be published, broadcast, rewritten or redistributed. We strive to uphold our values for every story published.