New York — Having gone for his Yankee clipping, Johnny Damon appeared with his hair trimmed and beard shorn to inherit the job made famous by the Yankee Clipper.
New York's battles with Boston have been decided by a whisker in recent years, and Damon's whiskers were very much in the news Friday, when he finalized his $52 million, four-year contract to leave the Red Sox and put on the pinstripes for the first time.
His long locks and facial hair were shorn a day earlier at Salon Ishi on Manhattan's East Side by stylist Chantal Gouy. Damon's wife, Michelle, looked on along with a Yankees' photographer as the 32-year-old complied with the code of Yankees owner George Steinbrenner.
"First of all, what do you guys think about this?" Damon said, looking at the cameras and stroking his barren chin. "Obviously, keep on snapping away."
Damon's hair was slightly over the collar of his green-gray suit, which had light blue stripes. He wore a two-tone blue shirt, but did not wear a tie, and his sideburns were perhaps slightly longer than the Boss would have preferred.
"I was thinking about cutting my hair right after the season," Damon said, going on to explain why he waited. "I knew if I came here it would be a big deal."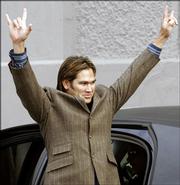 Steinbrenner seemed pleased with his new center fielder.
"He looks like a Yankee, he sounds like a Yankee, and he is a Yankee," Steinbrenner said in a statement.
Damon's decision to bolt Boston was stunning. Fans loved his hustle, which combined with his looks to spark cult-like devotion. In 2004, he helped the Red Sox win their first World Series title since 1918.
Now he is taking the position once held by Joe DiMaggio and Mickey Mantle, a spot filled since 1993 by Bernie Williams, who remains as a reserve. He was standing in front of a large Yankees' logo, wearing pinstripes, having switched sides and disappointed New England.
"I'm sure it's going to be crushing. I meant a lot to those fans there," he said. "They didn't really deserve it. But that team is dismantling. That's the unfortunate thing of this sport."
Damon's voice filled with emotion at times, and it got even softer than usual. He talked about what he perceived as indifference by Boston's front office and how pleased he was by New York's pursuit.
"This team really wanted me," he said. "And now I'm going to go out there and run through walls for them and hit and score lots of runs and bring another championship to New York."
Copyright 2018 The Associated Press. All rights reserved. This material may not be published, broadcast, rewritten or redistributed. We strive to uphold our values for every story published.