San Jose, Calif. — At a certain point after you have your first baby, after the relatives have come and gone, after dad is back at work, after your mom stops calling every day to "see how you're doing," the truth strikes home with all the inevitability of a soggy diaper:
You have to get out of the house. You have to make some new friends who also have babies. And if you don't do either one pretty soon, you're going to go quietly, deeply bonkers.
"Raising a new baby is overwhelming," says Stephanie Wemusa, whose daughter, Laila, was born four years ago. "You're not getting enough sleep, you're totally consumed by taking care of this kid, you're not talking to grown-ups. No one else necessarily has a brand-new baby, even though you have lots of friends. No one else is doing what you're doing. What could be more isolating?"
It might have been easier to forge common ground with other mothers in earlier times, when fewer women worked full time outside the home, and relatives seldom strayed far from their hometowns. Today, however, many women can find themselves on maternity leave without knowing a single mother who lives nearby.
The resulting isolation and loneliness new mothers often feel can lower self-esteem and exacerbate postpartum depression, says Karen Friedland-Brown, parent education coordinator at the Parents Place family resource center in Palo Alto, Calif.
The enforced solitude that comes with raising a baby in the early months can make your life miserable whether you plan to go back to your job soon or raise kids full time for awhile. And it's even worse for mothers of colicky or otherwise high-maintenance babies.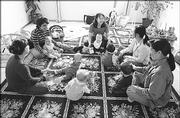 "Isolation breeds isolation. The more you stay at home, the longer you stay home, the harder it is to get out," Friedland-Brown said. "You begin to feel unattractive, uninteresting, like you can't have a conversation or be social."
Friedland-Brown often assigns the mothers she counsels to make a plan for getting out of the house every single day. A daily outing, whether for a support group meeting or even a walk around the block, requires showering and putting on clothes, "a powerful act" that makes women feel human again, she says.
Hera Hong-Lee recalls trying to do it all on her own when her first child, Brody, was born in April. Her husband went back to work a week after the baby came, and she knew precious few people in San Jose, Calif., having moved from Boston when she was pregnant.
Making new friends was important to Hong-Lee, who worked in hospital administration and for a bridal designer in Boston: She plans to stay home while considering a career change. So she checked out a support group for new mothers run by Good Samaritan Hospital in San Jose.
"Everyone was so nice, and since they all were in the same boat, it was really easy to talk to them," Hong-Lee said. "It was really comforting."
Now she is so active in one of the mother's groups organized by the hospital that she moderates its online message group.
Wemusa subscribes to the "it takes a village" philosophy not just for raising children, but also for taking care of herself. After being active in Las Madres, a well-known mother's group based in San Jose, Wemusa started a chapter of Mocha Moms, a national mothers group for women of color. Her involvement in mothers' groups has been a lifesaver, she says.
"It totally keeps you sane, especially if you've been a career woman," said Wemusa, a staffing program manager who took time off to care for her daughter and now wants to return to work full time.
"You work 24/7 as a mother - there's no break. You've never done anything harder in your life."
Avoiding isolation
Here are some tips for creating your own village from Karen Friedland-Brown, Stephanie Wemusa, Hera Hong-Lee and other mothers who have done it: ¢ Join something. Doesn't matter what it is, as long as it gets you out of the house. Mothers' groups abound. Local hospitals offer breast-feeding and general mothers support groups. There are exercise boot camps for new moms, music and exercise classes for infants, even mommy-and-me yoga workouts. ¢ Run something. Even if you're not a "joiner," scheduling a play date at your home or moderating a mother's group listserv, like Hong-Lee does, can help you reach out to other moms. ¢ Go online. Many parents' groups have active listservs where you can post a question or vent frustrations and get an immediate response, not to mention lots of sympathy. ¢ Exercise. Study after study has shown the power of exercise to lift mood. Besides, it'll help you lose that pregnancy weight. ¢ Be patient. Just because you meet someone with a baby the same age as yours doesn't mean you have anything else in common. You may have to meet 20 moms before you find one you connect with. "It's a lot like dating. You just have to keep putting yourself out there," Friedland-Brown says.
Copyright 2018 The Lawrence Journal-World. All rights reserved. This material may not be published, broadcast, rewritten or redistributed. We strive to uphold our values for every story published.