Fort Worth, Texas — Of all the rotten luck. Kansas University had a chance to nail down its first winning record in 10 football seasons, and one of its two most valuable players was slammed by illness in the days leading up to the game.
No sweat. Charlton Keith, who drew raves all season for his remarkable athletic ability, had a chance to showcase his most underrated quality as a football player, namely his toughness, in Kansas University's 42-13 bullying Friday night of University of Houston in the Fort Worth Bowl.
"Charlton didn't want anybody to know this, but he's been sick in bed the last two days with the flu," KU coach Mark Mangino revealed after the final game of Keith's remarkable senior season. "We weren't even sure he was going to be able to play. In fact, he was very sick in the pregame."
Keith summoned the strength to harass the quarterback, finish with eight tackles, force two fumbles and break up two passes. And he used his knowledge and sure hands to make the play of the night, an interception he took in for a fourth-quarter touchdown.
For a guy who spent just one season as a starter in a KU uniform, Keith sure made a loud impact on a growing football program.
He used such quick feet and long arms to sack quarterbacks at times and make them hurry their passes at other times. He batted down passes regularly.
Photo Gallery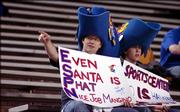 Fort Worth Bowl: KU vs. Houston
For a man so tall, the 6-foot-5-inch defensive end moves his so well that when his strengths are discussed the emphasis always is on his extraordinary athleticism. Yet, for a player whose weight is listed at 225 pounds, he couldn't do all the damage he does taking on men so much bigger without having a healthy dose of toughness.
"Charlton has a lot of heart," Mangino said. "I was concerned he couldn't play tonight, and despite all that, he put pressure on the quarterback, he made plays in the running game, he hustled around. It's a real tribute to him because he was very, very ill."
Keith's toughness allowed him to play a monster game, and his smarts played a part as well.
"It was really just right place at the right time," Keith said of the interception. "Knowing the plays that they like to run, watching film, week in and week out. Right place at the right time."
Watching Keith use his long reach to go up and get the interception and not drop it, it was difficult not to add another potential NFL position to the list for Keith, a smooth, explosive athlete whose only drawback is his relatively light weight. With hands like that, you have to wonder if Keith could play tight end. It's not likely to come to that. He projects as pass-rushing outside linebacker for a team that uses a 3-4 defense.
A high school quarterback, Keith could be seen before games effortless throwing 50-yard passes. He spent his first two years of college, one as a red shirt, in Glen Mason's program at Minnesota. Then he played football and basketball at a junior college in Minnesota, then was a reserve last season for Mangino.
He'll be missed. Keith and senior linebacker Nick Reid will be the toughest players for Mangino to replace for reasons that extend beyond skills and statistics and include an abundance of head and heart.
Copyright 2018 The Lawrence Journal-World. All rights reserved. This material may not be published, broadcast, rewritten or redistributed. We strive to uphold our values for every story published.