¢ Kansas University finished the season 7-5, the first time the Jayhawks had a winning record since 1995. Glen Mason led that team to a 10-2 mark and Aloha Bowl victory. Friday's win also was the first bowl victory since '95.
¢ With the Fort Worth Bowl being only three years old, broken records were destined to come. Among the ones set by KU: most points (42), most total yards (538) of offense, and penalty yards (138).
¢ Kansas was the road team and wore the white jerseys on Friday. With an 0-5 mark as the road team during the regular season, Friday's game broke the curse of the white top.
¢ The amount of tickets distributed totaled 33,505, according to Fort Worth Bowl officials. The actual attendance count from Friday's game was 30,112.
¢ Despite only leading 14-10 at halftime, Kansas nearly doubled Houston in total offense before halftime, racking up 231 yards on 35 players. Houston had 36 first-half plays for 124 yards.
¢ Senior Clark Green ended his career fourth all-time in career rushing yards, fourth in career receptions, and 14th in career total offense.
¢ Jon Cornish rushed for 101 yards on 16 carries, the fourth 100-yard rushing game by him this season.
Photo Gallery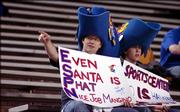 Fort Worth Bowl: KU vs. Houston
¢ Known for its innovative offensive play, Houston had some quirky setups Friday. On one, the Cougars had four receivers lined up to the left in the shape of a box. Then, Kevin Kolb threw it to the one receiver lined up on the right for a short gain.
¢ KU radio broadcaster Max Falkenstien called his last football game for the Jayhawks in his 60th season. His first game was a 1946 stalemate between Kansas and TCU in Kansas City, Mo., and ended Friday in TCU's home stadium.
¢ Kolb's touchdown run in the second quarter set a school record for most rushing touchdowns by a quarterback. Kolb finished his career with 17 touchdowns via the ground.
¢ Theo Baines' two interceptions gave him four on the season, tops on the team. Both came in the second half.
¢ Brian Luke replaced Jason Swanson midway through the fourth quarter. Other seldom-used players to get work included Dexton Fields and Jake Cox.
¢ Kansas senior Greg Heaggans did not make the trip and reportedly hadn't been practicing since after the Iowa State game a month ago because of violations of team rules.
¢ Backup linebacker Eric Washington did not play and was seen during the week with a sling on his left arm.
¢ Sophomore tight end Derek Fine misplaced his No. 85 jersey before Friday's game, and he instead wore a No. 84 jersey with "Fine" slapped on the back. The original No. 84, Jeff Wheeler, had his normal jersey on.
¢ Tom Zimorski was referee and head of a seven-man officiating crew out of the Atlantic Coast Conference. ... Temperature was 67 degrees at kickoff under clear skies, and the wind blowing from the south-southeast at 11 mph. ... The game lasted 3:42.
Copyright 2018 The Lawrence Journal-World. All rights reserved. This material may not be published, broadcast, rewritten or redistributed. We strive to uphold our values for every story published.