FIRST QUARTER
10:26 -- Brian Murph 85 punt return. Houston running back Ryan Gilbert was stuffed on two consecutive carries, forcing Houston to punt. A 57-yard kick was dropped by Murph, but the junior scooped it up and sprinted to the left sideline. He picked up a few blocks there, then cut back inside at around midfield and ran to the end zone on the right side untouched. Scott Webb kick. (Kansas 7, Houston 0).
SECOND QUARTER
14:22 -- Ben Bell 32 field goal. The Cougars sustained a 17-play drive that started on their own 20, finding most of their success through innovative pass plays. Three consecutive incompletions stalled the drive, though, forcing Houston to boot a field goal to get on the board. (Kansas 7, Houston 3).
12:49 -- Jon Cornish 13 pass from Jason Swanson. Kansas needed just five plays to move 60 yards, getting completions to Mark Simmons, Charles Gordon and Cornish. Cornish's reception was on a shovel pass, and the speedy junior raced around the outside and scored. Webb kick. (Kansas 14, Houston 3).
:57 -- Kevin Kolb 1 run. Houston recovered a Swanson fumble and ran it to the KU 42-yard line. From there, the Cougars went 42 yards on seven plays, the last a quarterback sneak by Kolb that was signaled a touchdown. Officials reviewed the play but couldn't find indisputable evidence to reverse it. Ben Bell kick. (Kansas 14, Houston 10)
Photo Gallery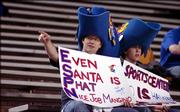 Fort Worth Bowl: KU vs. Houston
THIRD QUARTER
12:43 -- Cornish 30 pass from Swanson. On the second play of the short-field drive, Swanson completed another shovel pass to Cornish. The junior running back was flat-footed when he caught it, but recovered his momentum, broke a tackle and ran through a seam for six. Webb kick. (Kansas 21, Houston 10).
8:29 -- T.J. Lawrence 44 field goal. Kolb completed passes of 36 and 18 yards to move Houston into field-goal range, but incompletions and immense pressure from KU's pass rushers forced the drive to stall. (Kansas 21, Houston 13).
4:57 -- Mark Simmons 32 pass from Swanson. Houston blitzed aggressively on a second-down play from the 32-yard line, and Swanson threw the ball up the middle just before getting hit. Simmons snagged it and ran between the hashes for the touchdown. Webb kick. (Kansas 28, Houston 13).
FOURTH QUARTER
12:23 -- Charlton Keith 14 interception return. KU's athletic defensive end made a beautiful play on a throw in the flat, reaching behind him as he was rushing the quarterback and snagging a pass in mid-air. He then dove into the end zone as he was being hit for the acrobatic touchdown. Webb kick. (Kansas 35, Houston 13).
9:08 -- Murph 48 pass from Swanson. Swanson called an audible at the line of scrimmage and, under pressure from pass-rushers, threw a beautiful pass to Murph, who was five yards ahead of his defender. Murph scooted in untouched. Webb kick. (Kansas 42, Houston 13).
Copyright 2018 The Lawrence Journal-World. All rights reserved. This material may not be published, broadcast, rewritten or redistributed. We strive to uphold our values for every story published.