This Christmas, Gerry and Rachael Coakley plan to spend the day with his parents. They'll attend Roman Catholic Mass, open presents around his folks' tree and join them for Christmas dinner.
But before the evening meal, the couple will observe one more holiday ritual that they normally would follow in their own home: They will light a menorah for Hanukkah.
The Coakleys are among the many intermarried couples trying to make the best of a rare and uncomfortable coincidence on this year's religious calendar. Hanukkah, the Jewish festival celebrated by lighting candles on eight consecutive nights, begins on Christmas Day.
"When Hanukkah doesn't fall close to Christmas, they become more of a separate holiday for each partner," said Gerry Coakley, who is Catholic yet also has joined a synagogue with his wife. "But I think this year, when they're both on the same day, it gives us a chance to open up some dialogue between my family and us" about how the couple tries to honor each other's faith.
Calendar rarity
It is not unusual for Christmas and Hanukkah to occur within days of each other or to overlap. But Edmund Case, president of Interfaithfamily.com, said he researched the dates and found the start of Hanukkah has fallen on Christmas Day only four times in the last 100 years.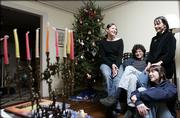 The number of American families led by one Jewish and one Christian parent has grown steadily in recent decades; the National Jewish Population Survey found that the intermarriage rate was about 47 percent from 1996-2001. For these couples, December can already be a time of high tension. Synagogues and Jewish community centers nationwide even schedule seminars for interfaith families and publish survival tips on getting through the season.
Case said more people seek advice from his organization this month than any other on how they can resolve disagreements over observing the holidays. The added difficulty this year is that on the night Hanukkah begins, many will be in the homes of their Christian relatives.
Mary Litman, who is Protestant, and her husband Seth, who is Jewish, will be at her parents' farm this Sunday with the couple's two children, who are being raised Jewish. The Litmans plan to bring along some menorahs, or candelabras, spinning tops called dreidls, and decorations for a Hanukkah party with their Christian relatives on the day after Christmas.
"We've lit the menorah with my family several times. That's not foreign to them," said Litman, of Marietta, Ga. But about 30 of her relatives will be at the farm during the holiday for the first time in several years. "We're going to introduce Hanukkah to them," she said.
No 'Chrismukkah'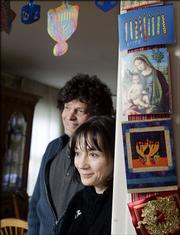 Families who celebrate both holidays often take pains to keep the festivities separate, and emphasize the history and beliefs behind each. While Christmas is among the most important days for Christians, honoring the birth of Jesus, Hanukkah is comparatively less significant. The holiday commemorates how Jews recaptured the Jerusalem Temple from a Syrian despot around 165 B.C., and how the one-day supply of oil they found afterward miraculously lasted for eight days.
Case said couples raising their children Jewish tend to be especially opposed to "Chrismukkah," a blended celebration popularized by the interfaith family at the center of the Fox drama "The O.C."
"When you mush the holidays together, it eliminates the history, tradition and integrity of each holiday," he said. "If you're trying to raise them with one religion, it's confusing."
Judy Cohen agrees. She was raised Catholic and became a Quaker while her husband is Jewish.
The couple's three daughters attend synagogue with their father, but they celebrate Christmas at their West Orange, N.J., home, emphasizing that it's a tradition "for Mom." Judy Cohen tries to avoid any overlap in the decorations for each holiday.
"They saw this distinction," Cohen said, of her three daughters, now ages 12, 15 and 18. "But this year, I've been really thinking about it because I think we'll have to put it all up at once."
Copyright 2018 The Associated Press. All rights reserved. This material may not be published, broadcast, rewritten or redistributed. We strive to uphold our values for every story published.