Berry Plastics Corp. is prepared to make the largest industrial investment in Lawrence history - provided it also receives the largest tax break ever sought from the city.
Berry, the parent company of Packerware Corp. in Lawrence, is seeking a 90 percent tax break on $58 million in investments being considered for Packerware's plastics plant in Lawrence.
The project would allow Packerware to use less plastic when making its millions of drink cups, kitchenware, garden tools and other products - $79.4 million worth last year - at the plant founded in town 37 years ago, with help from the city's first-ever tax abatement.
Let the high-stakes negotiations begin.
"I want to emphasize it's an exciting possibility, and I want to do everything I can to work with the company, but the 90 percent being requested is not necessarily the final number," Mayor Boog Highberger said.
Berry officials, meanwhile, said that their request was essential for making the Lawrence project a reality - a project that would add dozens of jobs and bring state-of-the-art equipment to an operation that already covers 470,000 square feet and employs 450 people.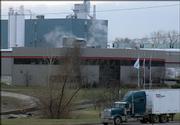 While the 90 percent number is not an ultimatum, it would solidify Lawrence's standing among an internal competition for the project among other Berry plants, said Brent Beeler, Berry's chief operating officer. The company has 23 other plants in the United States, plus one each in England, Italy and Mexico City.
"We haven't officially picked Lawrence yet," Beeler said. "We are considering Lawrence. It's one of the few that we're narrowing it down to, but certainly Lawrence would be a great spot for us. We certainly like the work force in Lawrence, and we like the location. And it's really an expansion of our current packaging business. :
"There is no ultimatum. We expect a fair proposal and we will be fair in our response."
Five years, 154 jobs
City officials received Berry's formal application Friday, a day after the company announced that Lawrence was in the running for a "major expansion" that could begin production in the third quarter of next year. The company would add 78 jobs and spend $58 million on building improvements and equipment upgrades, all within three years.
The application included more details:
¢ A total of 76 jobs would be anticipated to be added during the fourth and fifth years of the project, bringing the total to 154.
¢ New jobs would range from equipment operators to department heads, with hourly wages from $10.50 to $35. The average wage would be $13.21 in year three and $13.19 in year five, and the total annual payroll created by the project would be $2.14 million in year three and $4.23 million in year five.
The information formally will be received by commissioners as early as Tuesday, but more likely Jan. 3, Highberger said.
Commissioners will be expected to forward the material to the city's Public Incentives Review Committee, whose members then would order a cost-benefit analysis to be conducted by the Policy Research Institute at Kansas University.
The analysis would compare the expected benefits of the investment - more jobs, increased spending, more business for suppliers, etc. - against the anticipated costs of the project, such as increased demands for police protection, road repairs and new schools.
'There's a threshold'
Highberger said that while the preliminary numbers looked good, a decision couldn't come until all factors have been considered.
"We're looking at 78 jobs at a living wage or better, and that will be a great thing for the community," said Highberger, chairman of the review committee. "We just need to work out a deal that's beneficial for the company and fair to the community at the same time. :
"There's a threshold, and I want to make sure that the abatement that we grant to Berry is a benefit to the community on a long-term basis."
Tax abatements have faced increased scrutiny in recent months, as officials have criticized companies whose plans to boost employment haven't lived up to promises made when abatements were granted.
But Highberger noted that the past four years have been difficult in corporate America, in the wake of the 9-11 terror attacks, and that Berry's plans to expand in Lawrence had a "high probability" of becoming reality.
"I think we will work out a deal that's acceptable to the company and to the community, and that it will pass," he said. "I think we can do it. I will make sure that the city cooperates to the best of its ability."
Beeler said that the project would bring new "thermoform" equipment to the Lawrence plant at 2330 Packer Road, allowing Packerware to join two other Berry plants - one at Berry headquarters in Evansville, Ind., and another in Chicago - to have the industry's latest and most efficient technology.
Other options available
Berry hasn't made a similar application for tax breaks in other communities, or at least not yet.
"We have quite a few options available to us," Beeler said. "I really don't want to go into all the spots we're looking at, but we're getting it narrowed down, let's put it that way. We are finalizing other plans similar to Lawrence."
Granting the tax abatement would continue a mutually beneficial relationship between Lawrence and Packerware, Beeler said. Berry bought Packerware in 1997.
"It'd be a long-term commitment to Berry Plastics, with world-class technology," he said.
Copyright 2018 The Lawrence Journal-World. All rights reserved. This material may not be published, broadcast, rewritten or redistributed. We strive to uphold our values for every story published.