Beijing — China is dumping chemicals into a southern river in hopes of clearing a toxic spill that threatens water supplies to the major city of Guangzhou, the government said today.
The government says the spill of cadmium in the Bei River in Guangdong Province has been stopped by a dam upstream from Guangzhou, a city of 7 million people north of Hong Kong.
Authorities were dumping iron and aluminum into the Bei at the dam in the city of Yingde in an effort to cause the cadmium to settle at the bottom of the river, the official Xinhua News Agency said.
"The move is expected to ensure a safe water quality at the lower reaches of the river," Xinhua said.
Running water in two cities was shut down, and Guangzhou and others that use the river were ordered to prepare emergency supplies after the Dec. 15 spill from a smelter in the city of Shaoguan.
The cadmium spill was China's second environmental disaster in six weeks. The first was a chemical plant explosion that spewed benzene and other toxins into a northeastern river, disrupting water supplies for millions of people and straining relations with neighboring Russia.
The benzene slick arrived Thursday in the city of Khabarovsk in Russia's Far East. Authorities there said the city of 580,000 people would keep supplying running water from the river because chemical levels were still within a safe range.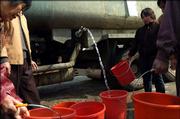 The cadmium spill occurred in one of China's most densely populated areas, which is home to thousands of factories that form the heart of the country's thriving export industries.
Cadmium is a bluish-white metal found in lead and zinc ores. Exposure to it can cause lung and prostate cancer, kidney damage and bone disease, according to the U.S. Occupational Safety and Health Administration.
The manager of the smelter was removed from his post, said Huang Yunwu, director of the propaganda department of the city's Communist Party branch.
Fourteen other smelters in Shaoguan, farther upstream from Guangzhou, have suspended operations while they undergo safety inspections, Huang said.
Yingde and another city upstream already have stopped using water from the river.
The Bei flows into the Pearl River, which passes through Guangzhou before emptying into the South China Sea west of Hong Kong.
The Baishiyao Dam in Yingde and the Feialixia Dam downstream will stay closed until the water returns to "safe levels of toxicity," but the government hasn't said when that will be, the China Daily said.
Officials in charge of the Mengzhou Dam upstream were preparing to release 100 billion gallons of water to dilute the cadmium, Wang said.
The twin accidents are an embarrassment to President Hu Jintao's government, which has promised to clean up environmental damage from China's 25 years of breakneck economic growth.
Copyright 2018 The Associated Press. All rights reserved. This material may not be published, broadcast, rewritten or redistributed. We strive to uphold our values for every story published.