It sounds like something Santa might say: Patience, revelers, patience.
That's what both city and downtown Lawrence officials are preaching to folks wondering why the trees that line Massachusetts Street aren't full of Christmas lights as in past years.
"We're very hopeful of having them back for future years," said Maria Martin, executive director of Downtown Lawrence Inc. "They are missed by the merchants, but more than that they are missed by the community."
Safety is the main reason the lights aren't up now, City Manager Mike Wildgen said. City crews have concerns that the electrical outlets, which are inside the planter boxes for the trees, have become unsafe.
"The inspectors indicated that the infrastructure couldn't support the lights anymore," Wildgen said. "We had a worker who actually got shocked a bit. They just need to be renovated."
The city is in the process of improving the electrical system as it replaces water lines along Massachusetts Street. But that work isn't expected to be finished for another two summers, which means Massachusetts Street could be a bit dim next Christmas, too.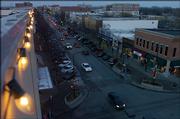 But Martin said the Downtown Lawrence Inc. board likely would discuss the possibility of asking the city to put the lights up in areas of downtown that have had outlets replaced. For example, the work in the 600 block of Massachusetts Street was completed this summer but the lights aren't up. By next Christmas, the 600, 700 and 800 blocks of Massachusetts Street should be rewired.
Wildgen said the city would work with the downtown association. He said the lights were owned by the association, but city crews string the lights in the trees.
"We'll cooperate to the extent possible, just like we have in the past," Wildgen said.
The lights also were absent from the trees last year for the same reasons, but that hasn't eased the pique of some shoppers, said Martin, who also owns Southwest & More. She said evening customers to her store often asked about the lights.
The association has tried to keep the downtown looking festive, though. The association, with help from the Lawrence Chamber of Commerce and the Lawrence Convention and Visitors Bureau, spent $25,000 to line the tops of downtown buildings with lights.
"The lights on the buildings do a nice job, but they don't create that winter wonderland effect like the trees did," Martin said.
Copyright 2018 The Lawrence Journal-World. All rights reserved. This material may not be published, broadcast, rewritten or redistributed. We strive to uphold our values for every story published.