CBS News legends Walter Cronkite and Andy Rooney rave about "Good Night, and Good Luck," but they worry that George Clooney's film could baffle younger viewers.
"Because of the complexity of the story line, and the entire generation that's grown up since those events, some of us felt there should have been a little introduction to what it was all about to set the scene," says Cronkite, 88, former anchor of the "CBS Evening News."
Here's an introduction: Director Clooney depicts how Edward R. Murrow of CBS News challenged Sen. Joseph R. McCarthy's intimidating methods in investigating communist influence on the U.S. government in the 1950s. The senator's way of making accusations with little evidence shook the country and spawned the term McCarthyism.
On the program "See It Now" in 1954, Murrow offered a blistering expose of McCarthy and called on the public to oppose the senator. McCarthy's support declined before his death in 1957.
"It's a fairly sophisticated danger that wasn't laid out too clearly in the movie to begin with," says Rooney, 86, of "60 Minutes." "You have to catch on as it goes along."
Yet Rooney adds that he's encouraged that moviegoers want to know the story. "I'm not highly hopeful about the intelligence of the American people," Rooney says. "If they like this, they're not as dumb as I think they are."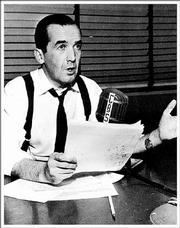 So far, the film has generated strong box-office receipts in limited release.
Anyone interested in television news will find a pertinent story in "Good Night, and Good Luck." A black-and-white film, it offers a brisk, 93-minute re-creation of a pivotal moment in broadcast journalism. To understand today's coverage, it helps to know the history. The clash between ratings and public service still shapes television news.
"Good Night, and Good Luck" - one of Murrow's signature comments - has drawn a wide range of reviews for Clooney, who also co-wrote the script and acts in the film. Stephen Hunter of The Washington Post complained that the film "is like a child's view of these events, untroubled by complexity, hungry for myth and simplicity." In The New York Times, A.O. Scott wrote that Clooney "has found a cogent subject, an urgent set of ideas and a formally inventive, absolutely convincing way to make them live on screen."
Those who knew Murrow, who died of lung cancer in 1965, praise David Strathairn's portrayal of him. The actor was wonderful, says former correspondent Marvin Kalb, 75.
"This guy seems smaller, but he got the cadence so right. He got that look," says Kalb, whom Murrow hired at CBS News.
Of the real Murrow, Kalb says, "It was like Moses and the parting of the Red Sea when he walked through the office. We all stepped aside. He walked slowly, with his head down. He was deep in thought."
Movie
Good Night, And Good Luck
***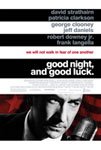 In the mid-1950's Edward R. Murrow and his producer, Fred Friendly, help bring an end to the tyranny of the blacklist and the House Un-American Activities Committee's anti-Communist hearings. With the platform provided by his CBS News program "See It Now," Murrow challenges Joseph McCarthy on his claims that hundreds of avowed Communists are working covertly as Soviet spies in the U.S. government, among other allegations, and that they have the power to destroy lives and careers.
Get movie listings, reviews, and more at lawrence.com
-->
-->
Rooney marvels at how Strathairn evoked the newsman. "I can't believe the attention to the back of his head," Rooney says. "He was Murrow from the back."
Clooney, however, bears little resemblance to Fred Friendly, Murrow's producer who died in 1998. Rooney saw the film with Friendly's widow, Ruth, at a New York screening. A filmgoer, not realizing her identity, told Rooney what a stretch it was for Clooney to play the homely Friendly.
"Ruth said, 'I know. I slept with him,"' Rooney says.
Rooney and Cronkite disagree about how the film presents Friendly, who was crucial in helping Murrow stand up to McCarthy.
"Fred was a good deal stronger than he came off in the movie," Rooney says. "He had as much to do with the whole thing as Murrow did."
Cronkite says he saw no failure to give Friendly the proper credit. Cronkite says the film was "quite accurate," the casting was good, and filmmaker Clooney did a great job.
"He did a very important public service and should be appreciated for that," Cronkite says. "I hope we can look for more such material."
Copyright 2018 The Lawrence Journal-World. All rights reserved. This material may not be published, broadcast, rewritten or redistributed. We strive to uphold our values for every story published.