The fans started to applaud as Darnell Jackson hopped off the bench and headed to the scorer's table.
They cheered more loudly -- some of the 16,300 standing -- as Kansas University's sophomore forward trotted onto the Allen Fieldhouse floor for the first time this season, with 6:01 left in the first half of Thursday's 85-62 rout of Northern Colorado.
"It was great. I wanted to cry. I got all emotional and teary-eyed. Man, it felt good to be out there," an emotional Jackson said after scoring a career-high 12 points with a career-high six rebounds in, you guessed it, a career-high 19 minutes. "The fans still love me after my trouble with the NCAA. I really appreciate it."
Showing no rust after serving a nine-game suspension for accepting gifts from a KU booster, Jackson scored his first points of the season on a pair of free-throw swishes with 3:25 left in the half. KU led at the time, 32-19.
It's amazing he didn't airball the attempts considering all the pent-up emotion in his 6-foot-8, 250-pound body.
"Coach said to go in, I didn't know if he said C.J. (Giles) or D.J.," Jackson recalled. "I got in the game and was losing focus thinking about my grandmother not being here for the game and seeing my mom in the stands crying. I told myself before the game, 'This is for my grandma,' and after sitting out all those games letting all my frustration out on the court."
The Jackson family suffered a tragedy over the summer. Darnell's grandmother died after sustaining injuries in a car accident. His mom, Shawn, survived the wreck, but incurred several broken bones that will keep her from working for a year.
Photo Gallery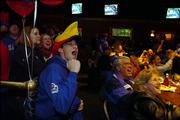 KU vs. Northern Colorado
"She would have been at the game or watched it on TV. She watched all the games," Jackson said of his grandmother.
Fellow Oklahoman Jeremy Case, who exploded for a career-high 11 points in a career-high 11 minutes -- he hit three of four threes, including two in two tries the first half -- said he could tell Jackson was intent on playing well.
"I could see that look in his eyes," Case said. "He brings a lot to the team. He's physical, puts a body on somebody all the time. He has a presence about himself."
KU coach Bill Self said he was happy Jackson was back in the rotation. Jackson started the second half next to Christian Moody. Moody started the contest in place of Giles, who has been suffering from flulike symptoms.
"(Jackson) played well. He was active. He tried hard," Self said. "Tonight we saw Darnell can help us, and Rodrick (Stewart, four points, one rebound, nine minutes in his second game since becoming eligible) can come in and give us a defensive boost. Rod was solid."
As expected, the Jayhawks (6-4) had way too much talent for 0-14 Northern Colorado, rolling to a 14-0 lead, courtesy of Brandon Rush's eight points, Moody's four and Jeff Hawkins' two. Hawkins hit two threes and scored eight points in 21 minutes.
Go figure
12,6,19 Points, rebounds, minutes played by Darnell Jackson 52.0 UNC's second-half shooting percentage 55.2 KU's overall shooting percentage 32 KU's advantage in points in the paint (42-10) 10 Kansas' first-half turnovers 4 KU's second-half turnovers 17 Letters in last name of UNC's Thansai Panagiotakopoulos 0-14 Northern Colorado's record
Rush and Julian Wright, who made six of nine shots, led the way with 13 points apiece. Russell Robinson had six assists.
"We played a lot better," said Self, whose team had struggled in a 63-43 victory over Pepperdine on Monday. "We played a lot of different guys. I wanted to do that, to have everybody go home feeling good, and they should."
The Jayhawks hit 55.2 percent of their shots to NCU's 37.7 percent. Jackson's 6-of-6 free-throwing -- he made three of eight floor shots -- led the way on a night KU hit 12 of 16 charities.
"It was a great night," Jackson said. "It was a lot of fun. I'd gotten tired of sitting in hard-soled shoes and coat and watching my brothers go to battle without me. I was so happy to not put on a tie or suit any more. It just felt good being back with my brothers."
The team members now will be apart until Monday night, most leaving town for winter break. KU next will meet New Orleans at 6:30 p.m. Thursday, at Allen Fieldhouse.
Copyright 2018 The Lawrence Journal-World. All rights reserved. This material may not be published, broadcast, rewritten or redistributed. We strive to uphold our values for every story published.