The widening of the Kansas Turnpike west of the Lecompton interchange moved into a new phase this week as westbound traffic was moved onto a new section of pavement.
The new two-lane pavement mostly parallels the old two lanes, which are now closed off. The new lanes start about two miles west of Lecompton and extend for six miles, from milepost 195 to milepost 189.
"This is the first of three segments we will do in the 14-mile stretch," said David Jacobson, chief engineer for the Kansas Turnpike Authority, referring to the length of the widening project between the Lecompton and East Topeka interchanges. "You'll see this same configuration all next year."
The Kansas Turnpike Authority is widening the highway from its existing two lanes in each direction to three lanes.
Moving traffic to the new pavement is necessary so crews can start work on three turnpike bridges over Douglas County roads. The bridges cross over East 500 and 100 roads and East 600 Road, which also is designated County Road 1029. Those roads were still open Thursday, but there will be periodic closures as the bridge work progresses, Douglas County engineer Keith Browning said.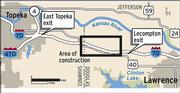 In addition to bridge work, improvements will be made to the median, Jacobson said. The concrete barrier will have a safer design and be built higher, from the current 32 inches to 51 inches. Drainage improvements also are planned.
Similar work will start on the eastbound side during the next two weeks, Jacobson said.
The work is part of a $54 million turnpike improvement project, which is expected to be completed by May 2007 and is ahead of schedule, Jacobson said.
"We've done more work than the time we were allotted," he said. "That gap will get closed during the winter because of the weather, but we're in a good position."
Copyright 2018 The Lawrence Journal-World. All rights reserved. This material may not be published, broadcast, rewritten or redistributed. We strive to uphold our values for every story published.