Fort Worth, Texas — Two University of Houston players were slouched in their chairs Thursday morning, dressed casually in UH gear, when Kansas University's four representatives walked into the room decked out in suits and ties for a Fort Worth Bowl news conference.
There was no dress code implemented for the event. But it didn't stop the Jayhawks from wanting to look like winners.
"This is a business trip," KU center David Ochoa said. "It's not our coaches making it that way. It's because we want it that way."
That seems to be the underlying theme of KU's stay in Fort Worth, which will culminate with today's 7 p.m. game with Houston at Amon G. Carter Stadium.
Kansas has been in "Funkytown" since Monday, and anyone walking through downtown Fort Worth at a decent hour surely would have seen several Kansas players in Adidas warm-up suits passing the time. But take that same walk in late-night hours, and the only KU representation is from the fans here to see KU play.
Players have gushed -- on and off the record -- about the attitude change, compared to the 2003 Tangerine Bowl, a "happy-to-be-there" trip, according to several players suiting up for both games.
"We weren't a very mature team (in 2003)," KU coach Mark Mangino said. "I think that many of the kids got excited about a bowl game and forgot that you're supposed to win it."
Photo Gallery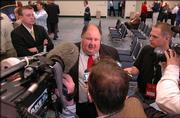 Ft. Worth Pre-Bowl
That's one of the reasons the Jayhawks didn't win it, falling, 56-26, to North Carolina State thanks to an offensive annihilation by Philip Rivers and the Wolfpack. Kansas (6-5) faces another potent offense today in Houston, ranked 14th nationally out of 117 teams in total yards per game.
But the Jayhawk defense undeniably is better than the '03 version, stopping almost every team that tries to run. The total defense is ranked 19th nationally overall and third against the run.
"Concerned, worried," Houston coach Art Briles said, asked about facing KU's defense. "Those kind of things come to mind."
Especially if that group keeps its focus, which appears to be the case.
Ochoa and linebacker Nick Reid said the team had passed the time doing a variety of things, like hanging out in a hospitality room set up by the Fort Worth Bowl and seeing the movie "King Kong," among other things.
"We're still having a good time," Reid said. "Just in a different way."
Ochoa and Reid agreed, though, it could get spoiled quickly if tonight's game comes with a sour ending to what has come to be a sweet week in Texas.
"It'd be big for me," Reid said. "I haven't had a winning season in four years. To win this would be icing on the cake."
Copyright 2018 The Lawrence Journal-World. All rights reserved. This material may not be published, broadcast, rewritten or redistributed. We strive to uphold our values for every story published.