The city's smoking ban has won a major legal victory.
Douglas County District Court Judge Jack A. Murphy has ruled that enforcement of the city's smoking ban should continue while a lawsuit challenging its constitutionality makes its way through the court system.
In an order made public Thursday, Murphy also rebutted many of the arguments made by Lawrence bar owner Dennis Steffes, who claims that the 18-month old ban is unconstitutionally vague and illegally supersedes state law.
City leaders took the judge's decision as a good sign for the future of the ban, which essentially prohibits smoking within all indoor workplaces, including bars and restaurants.
"I think the judge's order indicates that the plaintiff is not likely to prevail in this case," Lawrence Mayor Boog Highberger said.
At least not yet, Steffes said. He said he had not yet read the order but had long been prepared to lose the case in district court; he is committed to appealing the ruling to the Kansas Court of Appeals.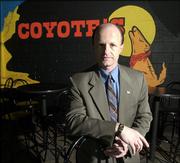 "It seemed obvious from the very beginning that this case was going to end up in Topeka one way or the other," said Steffes, who operates Coyotes, 1003 E. 23rd St., and Last Call, 729 N.H. "This isn't even close to being over."
Murphy's order allows the case to continue. However, it removes the threat of a temporary injunction that would have forced the city to stop enforcing the ban while the lawsuit is being argued, which likely will take several months.
"I think a temporary injunction would have caused a lot of confusion for the public," Highberger said.
Murphy wrote in his order that Steffes failed to meet several of the legal hurdles required to obtain an injunction. The most important one was the court agreeing that Steffes had a likelihood of ultimately winning the lawsuit. Murphy said that was unlikely.
Specifically, Murphy said he did not find evidence the city's ban was too vague.
"The city's smoking laws are clear in what conduct is prohibited: smoking is prohibited in most enclosed places and places of employment," Murphy wrote.
But Steffes - and his attorney, William Rork, of Topeka - have argued the law is vague because it does not give business owners enough specific instructions on what to do if a patron begins to smoke in their establishments.
Murphy also wrote that Steffes' argument that Lawrence's ban illegally supersedes state laws governing smoking was unpersuasive. He said the Lawrence law was more stringent than state regulations but did not conflict with them.
Steffes, who testified in court that sales at his two bars have declined significantly since the smoking ban, thinks his case still had merit.
"Private enterprise should be allowed to run their business without the government taking it over," Steffes said.
Copyright 2018 The Lawrence Journal-World. All rights reserved. This material may not be published, broadcast, rewritten or redistributed. We strive to uphold our values for every story published.