Chicago — LeBron James burst up the right side late in the third quarter, went up for a dunk and ... clang! It hit off the rim.
It was the lone blemish for James as he scored 37 points to lead the Cleveland Cavaliers to a 108-100 victory over the Chicago Bulls on Thursday night.
"I should have never missed that one," he said.
Moments later, a similar scenario unfolded. Only this time, James finished the dunk.
And then Damon Jones helped finish off the Bulls, hitting three consecutive three-pointers in the fourth quarter as the Cavaliers (15-9) won their fourth straight.
James, the NBA's third-leading scorer, was 12-for-25 from the floor - including 4-of-6 on three-pointers. Zydrunas Ilgauskas scored 25 points, including 11-of-11 from the foul line, and grabbed 11 rebounds.
Jones capped the decisive 15-0 run in the fourth quarter with three threes and finished with 15 points - while shooting 5-for-11 from beyond the arc.
"He made big shots," James said. "I'm happy he's on our side now."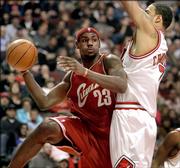 Larry Hughes started and scored nine points for Cleveland after missing Wednesday's practice to tend to his ailing brother in St. Louis. The brother had a heart transplant 10 years ago.
After two free throws by Eric Snow, a steal and layup by James and a basket by Ilgauskas cut the Bulls' lead to 81-80, Jones went to work.
His three with 8:17 left put the Cavaliers ahead, and he hit another to make it a five-point game. Chicago's Chris Duhon then threw a bad pass, which led to another three by Jones that made it 89-81 with 7:05 left in the game.
As important as those threes were the four steals the Cavaliers got during that run.
"It was just about getting defensive stops," James said. "We didn't shoot the ball as well as we wanted to in the third quarter. We made a few subs, we got defensive stops and hit big buckets."
Cleveland outscored Chicago 37-21 in the fourth.
"We have to be able to make adjustments during the game," said Bulls guard Kirk Hinrich, who had eight points and seven assists. "When things aren't going as well as we would like them to, we (need) to come together as a group and start competing harder - that's when you should start fighting harder."
Mavericks 105, Kings 95
Sacramento, Calif. - Dirk Nowitzki scored a season-high 37 points and had 10 rebounds to lift Dallas over Sacramento. The Mavericks rebounded from their embarrassing 122-90 loss to the Los Angeles Lakers two nights earlier.
Nowitzki scored 14 points in the fourth quarter, including 11 straight that broke an 85-all tie. His final two points came on a baseline jumper that put Dallas ahead 96-85 with 2:35 left.
Copyright 2018 The Associated Press. All rights reserved. This material may not be published, broadcast, rewritten or redistributed. We strive to uphold our values for every story published.