Lutz, Fla. — James Dungy, the 18-year-old son of Indianapolis Colts coach Tony Dungy, was found dead of an apparent suicide in his Tampa-area apartment early Thursday, the sheriff's office said.
James Dungy's girlfriend found him when she returned to the Campus Lodge Apartments about 1:30 a.m., Hillsborough County Sheriff's spokeswoman Debbie Carter said.
"Based on evidence at the scene, indications are that this death appears to be a suicide," Carter said. "There is no evidence to contradict that at this time."
However, Carter said, an autopsy would be performed to determine the official cause and manner of death. She released no additional details about what deputies found at the scene.
When Dungy's girlfriend found him, he wasn't breathing, Carter said. A sheriff's deputy performed CPR before an ambulance rushed him to University Community Hospital, she said. He was pronounced dead there.
Tony Dungy has left the Colts and is in Tampa, where he coached the Tampa Bay Buccaneers from 1996 to 2001. The Colts (13-1) are at Seattle on Saturday, and team president Bill Polian said that assistant head coach Jim Caldwell had taken over for Dungy.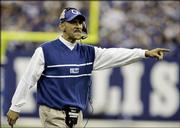 Indianapolis lost its first game Sunday against the visiting San Diego Chargers, ending what had been a perfect season.
"The thoughts and prayers of everyone in this building are with Tony and (wife) Lauren, their children and their extended family, and for the repose of James' soul," Polian said at a news conference at the Colts' training facility in Indianapolis. "This is a tragedy for the Dungy family and by extension for his football family here with the Colts."
Owner Jim Irsay and Polian met with team officials and players to break the news.
"It was not easy, and it was somber, to say the least," Polian said.
Caldwell will take over "for however long Tony will be away, and however long he will be away is entirely up to him," Polian added.
Chaplains were brought in to talk with the team.
"I don't think there's anyone here that would wish to play a football game under these circumstances, but it's our obligation, and we'll fulfill that obligation because that's what Tony wants us to do," Polian said.
The Dungys have four other children: daughters Tiara and Jade and sons Eric and Jordan. James, their second-oldest child, was taking extension classes at the University of South Florida, the sheriff's office said.
Copyright 2018 The Associated Press. All rights reserved. This material may not be published, broadcast, rewritten or redistributed. We strive to uphold our values for every story published.