Fort Worth, Texas — Kansas University linebacker Nick Reid caught wind of some bulletin-board material Thursday.
And he never has hesitated to show the public that such talk makes his blood boil.
So when informed that Houston running back Ryan Gilbert told reporters, "Their defense hasn't faced an offense like ours. They don't know what we're going to do," Reid paused for a second and shrugged his shoulders.
"Good," he said. "That's what those boys do. They run their mouths."
After several games this season, Reid has mentioned the pleasure he gets out of shutting down players who don't speak favorably of KU on the record.
For what it's worth, most of the talk of KU's defense was bubbly, including Houston coach Art Briles' thoughts on Reid, the Big 12 Conference's defensive player of the year.
"My 16-year old daughter could say, 'That No. 7 looks like a pretty good player,'" Briles said. "He's a stud, he's always been a stud, he's a great leader, he's a great emotional guy. Very intelligent."
¢ Cornerback shortage: KU coach Mark Mangino spoke briefly about the four junior-college transfers the Jayhawks signed Wednesday, a list that included two cornerbacks.
Photo Gallery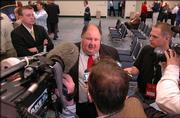 Ft. Worth Pre-Bowl
Are the addition of the juco cornerbacks an indication that Charles Gordon will finish his career as a wide receiver?
"No, that's an indication that we don't have any corners," Mangino said. "We're losing everybody but Aqib (Talib). Charles being kind of a part-time guy, we'll take as many as four or five corners (in this recruiting class). We don't have any on the depth chart."
No current red-shirts are projected corners, either. Darrell Stuckey is working out at safety, while Justin Thornton is getting repetitions at wide receiver.
¢ Tickets: Fort Worth Bowl executive director Tom Starr said that more than 32,000 tickets had been distributed.
That includes 10,000 to each school, which weren't all sold at either campus, and another 12,000 through the Fort Worth Bowl.
Starr hopes for a good walk-up crowd, too, and said even without one, the city of Fort Worth would benefit.
"A mid-level bowl, when you have right at 20,000 fans," Starr said, "that's about a $25-30 million economic impact for a city."
¢ Short trip: KU athletic director Lew Perkins and associate athletic director Jim Marchiony flew to Lawrence on Thursday afternoon to attend KU's men's basketball game against Northern Colorado. They then were to fly back to Fort Worth after the game.
¢ Nice forecast: The Fort Worth forecast for today calls for a beautiful day that could see temperatures rise to 72 degrees. However, game time will start well after dark, when it's expected to cool significantly.
¢ Another commitment: According to rivals.com, Kansas received another commitment Thursday, from a 6-foot-3, 200-pound athlete named D'Marcus Lang. Lang, from Scurry, Texas, picked Kansas over Arizona, Baylor, Boston College and Iowa State. He's expected to play running back, safety or outside linebacker at the college level.
Copyright 2018 The Lawrence Journal-World. All rights reserved. This material may not be published, broadcast, rewritten or redistributed. We strive to uphold our values for every story published.