Voters approved Sunday liquor sales by an 18-vote margin during Thursday's special election in Baldwin.
In the unofficial results, "No" votes outnumbered "Yes" votes 198-180.
A "No" vote meant approval because the question on Thursday's ballot was whether to prohibit Sunday sales of alcohol in Baldwin. The special election was a result of a petition that protested a 3-2 vote in September by the Baldwin City Council to allow Sunday sales.
"I think it was a choice for our businesses," said City Council President Amy Cleavinger on Thursday night after learning of the results.
Cleavinger was one of the three council members who had approved Sunday sales. She said she also voted for them in Thursday's election.
"As a council member, I try to do everything to help our businesses succeed and not lose business to neighboring towns," she said.
Joy Callahan owns Callahan Retail Liquor in Baldwin, but she opposes Sunday sales.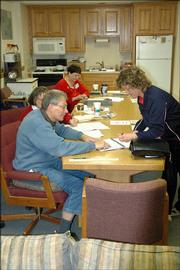 When she learned of the election results, Callahan said she would not open her store on Sundays. She's skeptical that Sunday sales would generate enough business on what is her and her family's day off.
But Callahan said she was encouraged that the voters had the final say and not the City Council.
"The people decided, and that's great," Callahan said. "Now I can do what I want to do."
Because Baker University students were home on Christmas break and the election was three days before Christmas, county election officials anticipated a low voter turnout. Fifteen percent of Baldwin voters went to the polls Thursday.
Because of the city's history, even considering Sunday sales was a hot-button issue. The Kansas Educational Association of the Methodist Episcopal Church sold lots, which later became the city, in 1858 to raise money to build Baker University.
A stipulation restricted the land from being used for making or selling alcohol. But it has never been invoked, and Baker President Dan Lambert has said previously that the university trusts city administrators regarding those matters.
Earlier Thursday, voters filed in sporadically to the three polling places around Baldwin.
Michael Miley, a Baldwin resident for about 12 years, left the Baldwin Fire Department about 5 p.m. Thursday.
He said he voted for Sunday sales as a way to help level the playing field.
"I think the businesses ought to be allowed to sell on Sunday in Baldwin since they can in Lawrence," Miley said.
About 15 minutes later, Angela Spielman exited the polling place at Baldwin School.
Spielman is a substitute teacher, and she and her husband have lived in the area for about 14 years, she said. She voted against Sunday sales.
"I feel like people can plan ahead and buy something on Saturday," Spielman said.
Shew said election officials collected four provisional ballots on Thursday. The unofficial results will be canvassed on Tuesday.
Sunday Sales Vote
Question: Within the city of Baldwin City shall sale at retail of cereal malt beverage in the original package be prohibited on Sunday and shall the sale at retail of alcoholic liquor in the original package be prohibited on Sunday, Memorial Day, Independence Day, and Labor Day? Yes - 180 (a vote against Sunday sales) No - 198 (a vote for Sunday sales) Official canvassing of the results will be Tuesday. Douglas County Clerk Jamie Shew said four provisional ballots would need to be considered at the canvassing.
Copyright 2018 The Lawrence Journal-World. All rights reserved. This material may not be published, broadcast, rewritten or redistributed. We strive to uphold our values for every story published.