Ho, ho, ho : Kansas University's women's basketball team is 9-0.
"It feels good," KU senior Crystal Kemp said. "We get to go home and have an even merrier Christmas."
Kemp's defensive job on Creighton's Angie Janis keyed win No. 9 - a 63-52 decision over the Bluejays on Wednesday night in Allen Fieldhouse.
Janis, a 6-foot-1 senior, had scored 20 or more points in seven consecutive games. She had 24 points when the Jays spilled the Jayhawks, 68-63, last year in Omaha, Neb.
"Crystal did an amazing job on her," teammate Kaylee Brown said.
Echoed KU's Erica Hallman: "She shut her down."
Janis played 31 minutes and scored only five points, three at the free-throw line. She was 1-for-7 from the field.
Photo Gallery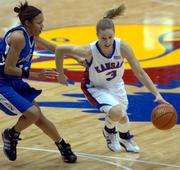 KU vs. Creighton 12-21-05
"I was worried about her," Kemp said. "I think I got her a little flustered early when I blocked one of her shots. After that, she wasn't as aggressive."
Kemp doesn't deserve all the credit, however. Every time the Jays' leading scorer touched the ball, another KU player slid over and double-teamed her.
"The Janis kid ate us up last year," KU coach Bonnie Henrickson said. "We were determined that when she caught it to double her. But I never would have guessed 1-for-7."
continued from page 1c
If Kansas hadn't shackled Janis, it's unlikely the Jayhawks would have remained unbeaten because their offense wasn't clicking. KU couldn't hit its threes (2-for-8) and couldn't make its free throws (7-of-16).
With 8 1/2 minutes remaining, the score was knotted at 41 and it appeared this one would remain close all the way to the buzzer. But then Henrickson shifted to a 3-2 zone defense.
"We got some stops," said Hallman, who finished with 15 points, eight rebounds and eight assists. "Bonnie put us in a 3-2. She switched it up and gave them a different look."
That new look led to an 8-0 run that sent KU ahead, 49-41.
"Kansas executed better than we did down the stretch," Creighton coach Jim Flanery said. "They threw a little wrinkle at us, and we didn't necessarily respond. When we did, we just didn't knock down shots."
Later, the Jayhawks sealed it by making five of six free throws in the last minute after missing eight of their first 10 charity shots.
Early on, Creighton appeared capable of ending its three-game skid and knocking KU from the ranks of the unbeaten. The Bluejays hit five of their first six shots and bolted to an 11-4 lead.
Kansas finally caught up but nursed a 29-27 lead at halftime, and the outcome remained dicey until KU went on that run in the last 8 1/2 minutes.
Creighton guard Kristi Woodard scored a game-high 23 points, snapping out of a three-game shooting slump.
"We really need for her and Angie Janis to play well," Flanery said, "and it just doesn't seem like they can both play well in the same game this year."
Creighton has a game Friday at Iowa, but the Jayhawks will be heading out on Christmas break today. They won't have to return until Monday evening.
"We're leaving a happy coach," KU's Brown said, "and we'll be coming back to a happy coach. It wasn't like that last year."
KU's next game will be Wednesday against Pepperdine.
Notes: KU had dropped five in a row to Creighton : KU was held under 70 points for the first time this season : Kansas scored 18 points off turnovers; Creighton had just two : Creighton didn't have a single fast-break basket, while KU had five. : Kansas and defending national champion Baylor are the Big 12's lone unbeaten teams.
Copyright 2018 The Lawrence Journal-World. All rights reserved. This material may not be published, broadcast, rewritten or redistributed. We strive to uphold our values for every story published.