Washington — As Tom DeLay became a king of campaign fundraising, he lived like one too. He visited cliff-top Caribbean resorts, golf courses designed by PGA champions and four-star restaurants - all courtesy of donors who bankrolled his political money empire.
Over the past six years, the former House majority leader and his associates have visited places of luxury most Americans have never seen, often getting there aboard corporate jets arranged by lobbyists and other special interests.
Public documents reviewed by The Associated Press tell the story: at least 48 visits to golf clubs and resorts; 100 flights aboard company planes; 200 stays at hotels, many world-class; and 500 meals at restaurants, some averaging nearly $200 for a dinner for two.
Instead of his personal expense, the meals and trips for DeLay and his associates were paid with donations collected by the campaign committees, political action committees and children's charity the Texas Republican created during his rise to the top of Congress. His lawyer says the expenses are part of DeLay's effort to raise money from Republicans and to spread the GOP message.
Put them together and a lifestyle emerges.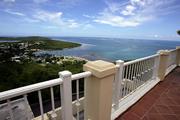 "A life to enjoy. The excuse to escape," Palmas del Mar, an oceanside Puerto Rican resort visited by DeLay, promised in a summer ad on its Web site as a golf ball bounced into a hole and an image of a sunset appeared.
The Caribbean vacation spot has casino gambling, horseback riding, snorkeling, deep-sea fishing and private beaches.
"He was very friendly. We always see the relaxed side of politicians," said Daniel Vassi, owner of the French bistro Chez Daniel at Palmas del Mar. Vassi said DeLay has eaten at his restaurant every year for the last three, and was last there in April with about 20 other people, including the resort's owners.
Re-election bid
Houston (ap) - Facing trial on charges of money laundering hasn't stopped Tom DeLay's re-election efforts. As expected, the former House Majority Leader Tom DeLay officially filed Tuesday to run for a 12th term in his suburban Houston district.
DeLay, a Republican, delivered nearly 1,000 signatures of registered voters in his district to the Republican Party of Texas.
"Our volunteers and supporters are energized to run an aggressive, neighbor-to-neighbor campaign spreading an optimistic message about the positive agenda the Republican Party is accomplishing to improve national security, defeat terrorism around the world, keep our economy strong and growing, and protect our borders," DeLay said in a statement.
The restaurant is a cozy and popular place on the yacht-lined marina at Palmas del Mar. Dishes include bouillabaisse for about $35.50, Dover sole for $37.50 and filet mignon for $28.50. Palmas del Mar is also a DeLay donor, giving $5,000 to DeLay's Americans for a Republican Majority PAC in 2000.
Consummate fundraiser
Since he joined the House leadership as majority whip in 1995, DeLay has raised at least $35 million for his campaign, PACs, foundation and legal defense fund. He hasn't faced a serious re-election threat in recent years, giving him more leeway than candidates in close races to spend campaign money.
AP's review found DeLay's various organizations spent at least $1 million over the last six years on hotels, restaurants, golf resorts and corporate jet flights for their boss and his associates.
While it's illegal for a lawmaker to tap political donations for a family vacation, it is perfectly legal to spend it in luxury if the stated purpose is raising more money or talking politics.
Until his recent indictment in Texas on political money laundering charges, DeLay was the second most powerful lawmaker in the House and as such, could command an audience of donors wherever he went.
DeLay attorney Don McGahn declined to identify which trips listed in the reports were taken by DeLay and which by his associates. But he said all the travel was legal and not done for DeLay's benefit. "Raising political money costs money," he said.
"Mr. DeLay has done extensive fundraising, and traveled far and wide to do so, but you would be hard-pressed to find someone who has raised more for others, whether for candidates or political parties," McGahn said.
Most trips legal
DeLay's travels with recently indicted lobbyist Jack Abramoff are now under criminal investigation. But those trips were paid by special interests directly under the banner of congressional fact-finding.
DeLay's own political empire has underwritten far more travel.
The destinations for DeLay or his political team include a Ritz-Carlton hotel in Jamaica; the Prince Hotel in Hapuna Beach, Hawaii; the Michelangelo Hotel in New York; the Wyndham El Conquistador Resort & Golden Door Spa in Fajardo, Puerto Rico; and the Phoenician Resort in Scottsdale, Ariz., built by Charles Keating before he became the most public face of the savings and loan scandal in the early 1990s.
DeLay's donors have also financed visits to country clubs and tournament-quality golf courses, including the exclusive Baltusrol Golf Club in Springfield, N.J., site of this summer's PGA Championship; Nemacolin Woodlands Resort in Farmington, Pa., home of another PGA event; and Harbour Town Golf Links, a Jack Nicklaus-designed course on Hilton Head Island, S.C.
Dining at fine restaurants also is routine. The stops for DeLay and his associates
Copyright 2018 The Associated Press. All rights reserved. This material may not be published, broadcast, rewritten or redistributed. We strive to uphold our values for every story published.