Everyone knows cell phones are good for communicating. But shopping?
Marketers hope so. Several companies are experimenting with better ways to send merchandise information to mobile phones, and they aim to transform the devices into personal shopping assistants.
San Francisco's WideRay has placed kiosks in selected music stores, video game stores and theaters across the country and in Europe. When customers come within 25 feet of the kiosks, they receive a message on their cell phones asking if they're interested in getting more information about various items the store is selling, perhaps music, ring tones, videos or games. If customers are interested, they can go to the kiosk and choose what to download.
The messages and downloads reach customers' cell phones over radio waves using a technology known as Bluetooth, which is more commonly used for wireless headsets. An estimated 140 million U.S. phones will be Bluetooth-enabled by the end of this year, according to Gartner research.
During a few weeks this summer, patrons of the Loews Metreon theater in San Francisco could download trailers, "wallpaper" pictures, ring tones and movie schedules at a WideRay kiosk for films like the Brad Pitt-Angelina Jolie movie "Mr. and Mrs. Smith" and "Fantastic Four."
Customers can choose between free downloads and those that come with a fee. But no additional charges appear on customers' cell phone bills because the transaction doesn't involve the wireless carrier, WideRay Chief Technology Officer Saul Kato said.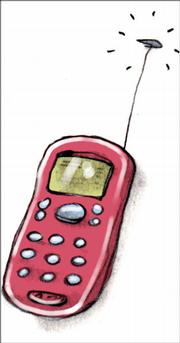 This is a good thing for customers concerned about extra costs on their phone bills - a worry that arose a couple of years ago, when some consumers started receiving, and paying for, unwanted text messages, he said. Also, when consumers download information from the kiosks, they're in control of what comes to their cell phones - another feature consumers appreciate, Kato said.
"For this to work there has to be real consumer value, and the value goes out the window when you start to spam people," Kato said.
Locating prices
Another feature coming to cell phones could solve a common pet peeve for shoppers: finding price or other information on an item when there are no salespeople in sight.
A Massachusetts company, Nextcode, has plans to transform cell phones into devices that can scan labels similar to the bar-code readers used at store checkout counters. The labels, which contain patterned squares instead of the parallel lines in bar codes, are hoped to be common in the future in retail stores.
Nextcode released its software, called ConnexTo, earlier this month. It works with cell phones that have cameras, like this: A cell phone owner downloads the free software from the ConnexTo Web site. With the program installed, the cell phone owner can take a picture of the item's label showing the specialized codes.
The shoppers automatically will receive information on their cell phones that has been encoded in the label pattern. The codes are only available right now on a few Web sites, but Nextcode hopes they'll become common in retail stores.
This feature does come with a price. Because the software in the phone has sent information from the picture out to a remote computer, which then sends the information that was encoded back to the phone, the consumer will be charged for the data transfer on their cell phone bill.
Nextcode hopes marketers will start to use ConnexTo to encode information on their merchandise - such as price, coupons and related products. That way, a consumer could walk into a store, see a code, scan it and learn more about products they're interested in, Nextcode Chief Executive Jim Levinger said. People also could scan codes from the Web or from print publications, he said.
Features developing
In Asia, cell phone owners are using their devices as debit cards to buy products, Levinger said. Such a function, coupled with code scanning, could change the way people learn about and buy products, he said. Some 58 million households will have camera-phones by 2009, according to Forrester Research.
"I think that mobile marketing is hugely beneficial to customers if it's used the right way," Levinger said. "You need to be able to help them at the time they need help - when they're making their buying decision. When people are in stores, they can't go to their laptops and comparison-shop."
More features are coming. Last week Santa Clara, Calif.-based Moonstorm released software called Cellfire that would automatically download coupons for stores in the customer's area to Cingular cell phones.
Customers don't receive any intrusive text messages but must click on the Cellfire icon on their phones to check out and use the coupons.
"As media continues to become more intrusive, it was key for us to develop an application that would reside on people's cell phone that they could use by choice," said Brent Dusing, chief executive of Moonstorm.
Luring users
Industry experts say it's a bit too early to tell how well these new mobile advertising methods will go over with consumers.
So far, the only kind of mobile advertising that has become somewhat commonplace in the United States is text messaging for sweepstakes and contests like "American Idol," said Julie Ask, a JupiterResearch analyst.
"A lot of what you see being done today is very experimental," Ask said.
While more than 180 million people have cell phones in the United States, only 38 percent have ever received or sent a text message, JupiterResearch found. Most adult cell phone users polled by the research firm said they were not interested in receiving text-message advertising of any kind.
Yet the huge sums spent on ring-tone downloads to phones - $217 million in 2004, according to JupiterResearch - hints at major opportunities for mobile marketers.
The key may be getting people to see their phone as not just a communication device, but "a computing device that's in your pocket all the time," WideRay's Kato said. "Everyone's trying to figure out, 'How do we get people onto this mobile content diet?'"
Copyright 2018 The Lawrence Journal-World. All rights reserved. This material may not be published, broadcast, rewritten or redistributed. We strive to uphold our values for every story published.