Topeka — With the 2006 legislative session only three weeks away, workers Monday put the finishing touches on the ornately restored Senate chamber, while lawmakers upped the original price tag of the Capitol renovation project.
Statehouse architect Barry Greis presented an update on the project's cost, which is higher than originally anticipated.
State officials approved $135 million for the renovation project in 2000, but that was before the Legislature agreed to add a visitor center and parking garage. The new cost is set at $162 million, which Senate President Stephen Morris, R-Hugoton, said was reasonable.
"When you consider the inflation, particularly over the last year, that's taken place with steel prices and energy costs and other cost drivers, we're in pretty good shape," Morris said. "We'll probably have to make some more adjustments as time goes on, but I feel pretty good about the way things have happened so far."
Legislative leaders approved a motion to ask Gov. Kathleen Sebelius to increase her proposed budget or allow the issuance of more bonds to make up for the additional expense.
Greis said the increased cost was not something he could have predicted.
"There are so many unforeseen conditions in a historic building like this that there's no way to have pre-planned for certain items," he said.
Photo Gallery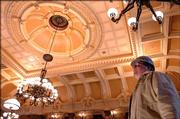 Senate chamber renovations
A construction boom in China and the hurricanes in the southern United States have affected the construction market, he said.
"That means our prices for electrical equipment, generators, heating and air conditioning all go up," he said.
Greis took a group of lawmakers on a tour of the Senate chamber. They liked what they saw.
"I'm very proud of the work that's been done so far," Morris said. "I think people will look at the Senate chamber and really appreciate the restoration. It's always been one of the most beautiful in the country, but now I would challenge any Senate chamber in the country to be any more beautiful than this one."
Great care is being taken during the renovation to be sure the updates are historically accurate. The chandeliers in the Senate chamber were modeled after the original light fixtures.
The east wing of the Statehouse's second floor offers better access for people with disabilities. The ramp leading to the chamber floor is less steep, and there is an assigned area for wheelchair seating in the gallery. An extra door at the entrance will improve fire safety.
"I think it's a milestone of a day and it shows that we're going to continue on track," Greis said. "We'll be back next year to talk about the south wing design."
Copyright 2018 The Lawrence Journal-World. All rights reserved. This material may not be published, broadcast, rewritten or redistributed. We strive to uphold our values for every story published.