Wellsville — Curtis Wright has become a familiar face for many of the kids who have enrolled in the Wellsville Unified School District the last two decades.
While he's best known for his work as a pastor, students know him as a school bus driver and an occassional substitute teacher.
However, when it comes to the education of his own five children, Wright and his wife, Sue, went another route - choosing the home-school option.
Before this fall, a home-based curriculum was the only thing Kyle Wright, the middle of those three children, had ever known. However, eager to take a taste of the public school experience, Wright convinced his parents to allow him to enroll at Wellsville High for his senior year.
A big part of his transition was finally being able to join the kids he grew up with on the basketball floor. After spending the formative years of his high school career playing for Metro Academy - a Shawnee-based team composed of home-schooled kids - Wright is closing it out as a starting forward for the Eagles.
The early returns have been promising for all parties. The 6-foot-4 newcomer is Wellsville's leading scorer and rebounder through its first four games, and his addition has the Eagles excited about the possibility of a return trip to the Class 3A state tournament after last season's surprise visit.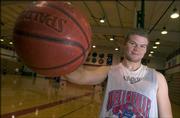 What was the reason behind the decision to go from being home-schooled all the way through 11th grade to, as a senior, deciding to go to public school?
I grew up watching Wellsville play. It's a small town and I knew all the guys. I grew up playing rec sports with them and watching Wellsville teams before. I was always a Wellsville fan. So I was pretty good friends with the guys. But my parents made the decision to home-school me, and that's what we did. When I started playing sports on home-school teams, I got along fine. I never had a problem with it. ... My freshman year, I told my parents I wanted to come to school, and they said it was their decision and they were going to keep me at home. So I accepted it. I never regretted it or resented them for that. That was fine. The past summer, after my junior year, I told them I was thinking about coming to school, and they said, "This time it's going to be up to you." So they said pray about it. I prayed about it, and it's just one of those things, I thought about it and I decided this is what I wanted to do. It was right for me, and I don't have any regrets about it.
What's it been like being in public school? Is it what you thought it would be?
It's really not that different. The biggest differences are sitting in a desk all day - it's pretty much the same work I did at home, same school-type worksheets, tests, homework. The biggest difference is just sitting at a desk and having a teacher and everything's a little more scheduled. Like I said, I knew all the guys in Wellsville. Everyone pretty much knows everyone, so the transition hasn't been too tough.
From a basketball standpoint, did you have to make any big adjustments being part of a school team versus being part of a collection of guys who came together (on a home-school team)?
The home-school coach I played with for a long time. The biggest change has been going from his coaching to coach (Dirk) Over's coaching. It's not that different, but all coaches are different. Like, learning a new offense has taken me a little bit of time. But I played with all the guys before in summer leagues and stuff, so I knew how the guys played and I think I fit in pretty well with them.
Are you enjoying getting the whole team experience, being able to be with the guys not just on the court, but at school?
Definitely. I really like school. My teachers are really good, and I like the camaraderie. It's definitely a little stronger at school than being on a home-school team, I would say.
Do you ever get a tough time from anybody (being the new guy)?
It's not too bad. I'm a senior. I'm still a new guy, so I get a little bit of razzing here and there. There's a few things, like I can't run for winter coronation king, I couldn't run for homecoming king, I can't be valedictorian. But I didn't have to sit out a semester. I still get to graduate and walk. But the guys, they like to put me in my place every now and then and let me know I'm the new guy.
It seems like you've assimilated to the team pretty well with your play. Has it been tough trying to come in and find your role on the team, or has it been a smooth transition?
I don't think it's too bad. Like I said, I grew up with these guys and I played with them before. We're really unselfish people. We're off to a pretty good start here. No one really seems to care what happens. We're all just out there to get a win.
Do people ever give you a hard time about your dad being a school bus driver, yet you weren't in school until this year?
My Dad might have heard more of a hard time than I did. It was one of those things, whenever I would come up to the school for games or things, people would always be like, "Kyle, you coming to school next year?" That's also one of the reasons I decided to come to school. My dad's really involved, and it's much more convenient. It's much more convenient, driving-wise, the cost of gas rising.
If I were to ask your parents what they see out of Kyle Wright now compared to before he was in public school, do you think they would still see you the same way, or would they think that public school has changed you a little bit?
I'm pretty sure they'd say I'm the same kid. The differences ... I'm not around the house as much as I used to be, just because I'm not being home-schooled, I'm at school. But I think I've adjusted pretty well. It's not too much of a change.
What's the best part about being in public school instead of being home-schooled?
The best part is I have some teachers I really like. I've become better friends with the guys here at Wellsville. I said I've played with them before, but the friendships and camaraderie level has definitely risen since I came to school, and I really like that. I really like being at Wellsville. There's a lot of great people here. I'm happy here.
What would be the biggest downside to being in public school as compared to being home?
I don't get quite as much sleep as I used to. ... It was a tough decision because I was close with the home-school team and I made some good friends there and I was close to the coach there. I'd be lying if I said I didn't miss them at all. I miss that. But I don't have regrets. And not being around my family quite as much.
So what does the future hold for you? Have you made any plans as far as college?
I just took the ACT (last) Saturday for the first time. I definitely want to go to college. I'm looking into secondary education, that area, for a degree. To play basketball, I'm not quite sure yet. I'm going to see if any doors open. Probably not too far from home.
So as far as secondary education, are you then going to plan on turning around and, if you have kids some day, home-schooling them, or would you put them in public schools?
That's a tough decision. I think my wife would have a lot to say about that. I plan on being a teacher. I don't have anything against the public school system at all, but I think home-schooling is a good option, too, if you're disciplined as parents and you know how to do that.
Copyright 2018 The Lawrence Journal-World. All rights reserved. This material may not be published, broadcast, rewritten or redistributed. We strive to uphold our values for every story published.