Washington — Accused of acting above the law, President Bush on Monday forcefully defended a domestic spying program as an effective tool in disrupting terrorists and insisted it was not an abuse of Americans' civil liberties.
Bush said it was "a shameful act" for someone to have leaked details to the media. Atty. Gen. Alberto Gonzales said it was "probably the most classified program that exists in the United States government" - involving electronic intercepts of telephone calls and e-mails in the U.S. of people with known ties to al-Qaida and other terrorist groups.
At a news conference, Bush bristled at the suggestion he was assuming unlimited powers.
"To say 'unchecked power' basically is ascribing some kind of dictatorial position to the president, which I strongly reject," he said angrily in a finger-pointing answer. "I am doing what you expect me to do, and at the same time, safeguarding the civil liberties of the country."
Despite Bush's defense, there was a growing storm of criticism from Congress and calls for investigations, from Democrats and Republicans alike. West Virginia Sen. Jay Rockefeller, the top Democrat on the Senate Intelligence Committee, released a handwritten letter expressing concern to Vice President Dick Cheney after being briefed more than two years ago.
Rockefeller complained then that the information was so restricted he was "unable to fully evaluate, much less endorse these activities." He registered concern about the administration's direction on security, technology and surveillance issues.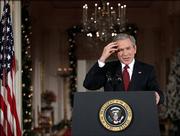 Sen. Arlen Specter, R-Pa., chairman of the Judiciary Committee, said he would ask Bush's Supreme Court nominee, Samuel Alito, his views of the president's authority for spying without a warrant.
"Where does he find in the Constitution the authority to tap the wires and the phones of American citizens without any court oversight?" asked Sen. Carl Levin, D-Mich. Sen. Dianne Feinstein, D-Calif., said Bush's interpretation of the Constitution was "incorrect and dangerous."
The spying uproar was the latest controversy about Bush's handling of the war on terror, after questions about secret prisons in Eastern Europe, secrecy-cloaked government directives, torture allegations and a death toll of more than 2,150 Americans in Iraq. As a result, Bush's approval rating has slumped as has Americans' confidence in his leadership.
Appealing for support, Bush used the word "understand" 25 times in a nearly hourlong news conference. "I hope the American people understand - there is still an enemy that would like to strike the United States of America, and they're very dangerous," he said. Similarly, he said he hoped that blacks who doubt his intentions "understand that I care about them."
Bush challenged Senate Minority Leader Harry Reid, D-Nev., and Sen. Hillary Rodham Clinton, D-N.Y. - without naming them - to allow a final vote on legislation renewing the anti-terror Patriot Act, saying it was inexcusable to let it expire.
"I want senators from New York or Los Angeles or Las Vegas to go home and explain why these cities are safer" without the extension, he said.
Reid and Clinton both helped block passage of the legislation last week in the Senate.
Bush noted that U.S. intelligence agencies had been faulted for failing to "connect the dots" about threats to the nation's security. He said the Patriot Act and the spying program helped take care of that problem.
Reid fired back: "The president and the Republican leadership should stop playing politics with the Patriot Act," he said in a statement that added he and other Democrats favor a three-month extension of the expiring law to allow time for a long-term compromise.
The legislation has cleared the House but Senate Democrats have blocked final passage and its prospects are uncertain in the congressional session's final days. Scolded by Bush, key lawmakers reopened talks by setting out the rough parameters of a deal to extend the act for one to four years.
Bush said the electronic eavesdropping program, conducted by the National Security Agency, let the government move faster than the standard practice of seeking a court-authorized warrant under the Foreign Intelligence Surveillance Act. "We've got to be fast on our feet, quick to detect and prevent," the president said.
The president said the authority to bypass the court derived from the Constitution and Congress' vote authorizing the use of military force after the 2001 terror attacks.
"I can fully understand why members of Congress are expressing concerns about civil liberties," the president said. "I want to make sure the American people understand, however, that we have an obligation to protect you, and we're doing that, and at the same time protecting your civil liberties."
Copyright 2018 The Associated Press. All rights reserved. This material may not be published, broadcast, rewritten or redistributed. We strive to uphold our values for every story published.