Like most high school students, Amanda Vobrist wanted to buy a class ring and a set of her senior class pictures.
Unlike most high school students, however, Vobrist couldn't go home and just make a casual request to mom and dad for the money, knowing her wishes would be granted. She was a foster child living with foster parents who received assistance from the state in paying for her needs.
The state didn't recognize class rings and pictures as needs.
"It's not something I could have paid for on my own," Vobrist, now 21, said as she thought back to her years at Lawrence High School. "I had a part-time job when I was in high school, but that wouldn't have been enough to pay for it. And I didn't want to rely on (a foster parent) to pay for it."
That's when Douglas County Friends of Children in Foster Care Foundation came to Vobrist's rescue. The foundation put up money to help Vobrist buy her ring and pictures. It also paid for a trip to Pennsylvania so she could visit relatives.
A need for extras
The foundation was formed seven years ago to help foster children pay for things such as senior pictures and class rings, prom dresses and graduation announcements, and other needs.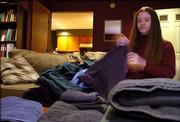 "There was just a real need for basic things that kids in a normal life take for granted," said Bobbie Kearney, president of the foundation.
The foundation takes the pressure off foster parents in such instances, said Debi Hatfield, a foundation board member and its founder.
"Foster parents were barely breaking even if not having to dip into their own savings to cover the needs of children in foster care," Hatfield said.
Irene Soderstrom, a Lawrence foster parent for a little more than two years, welcomes the assistance the foundation provides.
"We have had a lot of teenagers, and for teenagers specifically I think it's a great organization," she said.
Some teenagers are involved in a lot of activities at a variety of different costs, and funds from the foundation give foster parents more ability to meet a teen's needs, Soderstrom said.
"You don't have to think about the budget as much," she said. "It gives you a little more flexibility to say, 'We're just going to go ahead and do this extra thing.'"
Foster children file application forms with the foundation when they want assistance paying for something. They can file more than one application for different things. The board then decides whether to contribute money. The foundation handles an average of 100 requests a year and pays an average of $3,000 for such requests.
The board also conducts its own various fundraisers such as bake sales and raffles to raise money.
St. Patrick's benefit
The foundation was selected recently to be one of the three charities to receive funds from the 2006 Lawrence St. Patrick's Day Parade Committee fundraising drive. The foundation had applied for assistance from the committee three or four other times before it was accepted.
How to help
While the Douglas County Friends of Children in Foster Care Foundation welcomes assistance from the St. Patrick's Day Parade Committee, it will always be in need of additional funding.
Anyone who wants to donate to the organization send mail to the foundation at P.O. Box 36, Eudora 66025. If you have any questions about making donations, call Bobbie Kearney at 832-3736.
"That was really great," said Kearney, who works as a human service assistant in the Lawrence Social and Rehabilitation Services office. "I was nervous as can be (the day of the announcement), but it was great to hear that."
In the mid-1990s while attending graduate school, Hatfield began forming the idea that became the basis of the Foster Care Foundation. She even wrote a research paper about her idea. Hatfield also had been a foster care supervisor in the Lawrence SRS office. A foundation board of directors was formed that involved many who were in social work.
In addition to their own fundraisers, Hatfield wrote to a Kansas City area radio station, which launched its own fund drive to help the foundation.
"We ended up getting about $15,000," said Hatfield, who now works for the Kansas Department of Health and Environment and serves as the foster care licensing administrator of the state of Kansas. "It was just wonderful because that has really helped us supply some of those wishes over the years."
Copyright 2018 The Lawrence Journal-World. All rights reserved. This material may not be published, broadcast, rewritten or redistributed. We strive to uphold our values for every story published.