Rural Comanche County — Stan Roth drives his SUV down a washboarded dirt road, keeping a watchful eye out for birds in the sky and critters on the ground.
It's overcast, but the Gyp Hills still glow red from the gypsum rock that gives them their name.
Roth loves this land.
After opening a cattle gate halfway paneled with tumbleweeds and driving over a trail of beat-down tallgrass, he stops the truck.
He gets out, then leads a group of students from West Texas A&M; University down a steep hill and into what seems to be another world.
It looks like Colorado, or maybe the Ozarks in Missouri. A stream babbles over a small waterfall. Dense cedar trees create a canopy from the outside world.
And upstream: the entrance to Big Gyp Cave, one of the largest caves in Kansas.
It's home to some of the bats that Roth has grown to love over more than four decades.
"This is a special place for Stan," says Kyle Gerstner, a Lawrence nature photographer who has accompanied Roth on several trips. "I think he just loves to breathe the air in here. It's almost like hallowed ground."
Photo Gallery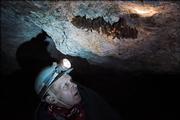 Batman
Roth, 70, knows the Gyp Hills like he knows his back yard.
He's been fascinated with the land since the mid-1950s, when he helped with a film project that focused on the Ozarks in Missouri. He switched his major to biology at Emporia State University.
"My whole world just started coming together at that point," he says.
He started teaching biology at Lawrence High School in 1959 and eventually started planning frequent field trips to Barber and Comanche counties, which have an estimated 400 caves. The students often camped in caves among the bats.
During the trips, he started a regular census count of the flying mammals in the area, a practice he continues to this day. He makes trips every two to three years.
The field trips were a practice he continued until his retirement in 1999, which garnered local and national headlines.
School district officials decided to reassign Roth to an administrative position, but he refused and instead retired. Roth says administrators never told him why he was being reassigned, but he suspects it was because of a crass comment he made to a student who wanted creationism taught in the science classroom.
He had planned to teach until he was 70, so this could have been his last year in the classroom. But even in retirement, Roth is finding ways to teach, such as the recent trip with the Texas students.
"He's reinvigorated every time he takes somebody new into a cave," says Ray Matlack, the West Texas A&M; professor who led the class. "He goes through that entire experience of rediscovery every time he takes someone new through the caves. He relives that experience vicariously."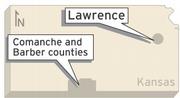 Midway into Big Gyp Cave, a student shines his flashlight at a brown speck in the distance.
"Is that one?" he asks.
A dozen spelunking headlamps swing to reveal a single big-eared bat, hanging from the rocky ceiling.
If not for alert eyes, the brown bat - about 4 inches in length - could easily have been overlooked. That's the way it is with most of the bats, which are dormant this time of year.
Despite hip surgery in May and intestinal surgery in October, Roth hops between jagged rocks with animal-like instincts.
He slogs through bat feces - known as guano - that, in places, measures mid-calf. He sometimes filters the strong ammonia smell through a bright-red bandana.
Sometimes the caves are large enough to stand in. In other places, crouching or crawling are required. Roth turns back when the caves narrow to require crawling on his belly and sometimes snaking through small cracks left in jagged rocks.
The trip was designed to show the Texas field biology students the Kansas caves and teach them about bats. But, recognizing that surgeries have slowed him, Roth has another reason for the trip.
"I'm using this experience to decide if I'll continue on with the census for the 2006 season," he says.
Roth knows these caves. He'll tell you their layout, what kinds of bats you'll find, where they'll likely be located and whether they'll be solitary or in groups.
There are four species of bats found year-round in the Red Hills - big brown bats, big-eared bats, pipistrelle bats and cave myotis bats. Several others are found during the summer migration season.
The bats' numbers in Kansas seem to have remained steady during the past couple of decades, Roth says. The numbers plummeted in early years during his census counts, he says, because the animals were disturbed by annual visits by humans. When he scaled back the visits to every two or three years, the bats returned to the caves.
The bats can be found in the Gyp Hills year-round, though some are more prevalent in the spring and summer months as they migrate northward. In the winter, they're in a dormant state, making them easier to count.
Colleagues say Roth knows more about Kansas bats than anyone else. Asked why he keeps studying them after all the years, he doesn't hesitate.
"The questions," he says.
Why, for instance, are some bats solitary while others are found in clusters? And why do some leave caves to give birth in barns and other structures?
Bats - perhaps because of their negative image in popular culture, perhaps because they're not easily accessible - don't draw large numbers of researchers, even though remote-sensing technology is making research easier.
"Bats are hard to study, though the technology is getting better," Roth say. "The things I'm doing with bats are simple, but they're long-term. I'm watching the numbers over the years."
Roth drives slowly between caves, along roads that are partially paved with manure from open-range cattle, with stop signs riddled with bullet holes.
His SUV often swerves as he looks to the sky, searching for a bird to add to the list he always keeps on trips. He'll stop to check out animals on the ground.
"If Stan sees an armadillo, he won't just point it out," says Bill Busby, an associate scientist at the Kansas Biological Survey. "He'll pull the car over, run out and jump on it."
Roth uses subtle cues to find the caves. It might be a sprig of bluegrass. Or a gnarly cedar tree. Or a power pole.
He's glad the caves are difficult to find. It makes them tougher to vandalize.
After a day of caving, Roth and the students go to Buster's, Sun City's only open storefront.
The bar and restaurant is teeming with camouflage-clad hunters, smoked ribs and schooners of beer. A two-piece country band is playing on a small stage, ESPN2 is showing a rodeo, and a small TV in the corner is showing turkeys and deer caught by a motion-sensing camera.
Several ranchers who own land where Roth explores caves have come to meet him. He's earned their trust through the decades by always asking permission and treating their land with respect.
"Stan's such a nice guy," says Gary Kliesen, who owns land with a cave and who let Roth stay in his basement during the recent trip. "He gets to know everybody so well. Everybody says, 'Hey, that's my old buddy Stan.'"
Roth isn't sure how his field notes will be used in the future. He's filled 28 field journals with his observations in the Red Hills.
State wildlife officials say they could use the data to help decide whether bats or other animals should be placed on endangered-species lists. KU researchers say they could use the data for a wide variety of projects.
"We've been encouraging him to write his notes up and publish some of this information, so it's more readily available," says Busby, the Biological Survey scientist. "But you know Stan, he wants to be in the field. He doesn't want to be tied down to a desk."
With nearly two weeks' recuperation behind him after the last bat trip, Roth says he's still not sure whether he'll continue his official bat counts, which typically start in January. He's waiting to see how his hip feels, and may try to get more help from fellow scientists to complete the census.
Eric Rundquist, a student of Roth's in the 1960s who has gone on to a career in zoos and research animal care, figures Roth will be in the field as long as he possibly can.
"He knows more about natural history in Kansas than anybody, bar none," says Rundquist, who still makes trips to the area with Roth. "He's 70 years old. It's going to slow him down a little bit. But he's one of those unique sorts of characters who's happiest when he's in the field. If he happens to keel over when he's out there, he'll be happy."
Copyright 2018 The Lawrence Journal-World. All rights reserved. This material may not be published, broadcast, rewritten or redistributed. We strive to uphold our values for every story published.