Austin, Texas — A smattering of boos in the first half. Another key injury. Another big loss.
The Texas Longhorns, ranked No. 2 just a week ago with early season dreams of a potential Final Four, now find themselves befuddled after a second straight blowout loss.
While the first came on the road against top-ranked Duke, Saturday's 95-78 loss to undefeated but unranked Tennessee snapped a 33-game, nonconference home winning streak.
Chris Lofton scored 21 points, and C.J. Watson added 17 for Tennessee (6-0), which hit 12 three-pointers, forced 22 turnovers and routinely sliced through the Longhorns' defense.
"This is a great win for Tennessee," first-year Volunteers coach Bruce Pearl said. "This game meant a lot to us. We hadn't played against this type of competition."
It was the kind of dominating victory Volunteers fans are more used to seeing from Pat Summitt's women's teams. Unfortunately for Texas, the Longhorns' sloppy play the last two games has become too familiar.
P.J. Tucker had 20 points and 11 rebounds for Texas (8-2), which outrebounded Tennessee, 37-25, but couldn't stop the Volunteers from cashing in on the rash of turnovers with three-pointers.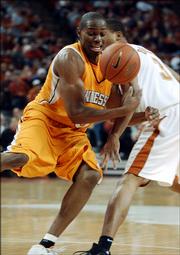 Texas gave up 12 three-pointers in the 31-point loss to Duke, nine by All-America J.J. Redick. Lofton filled in where Redick left off, hitting five threes, some when he was wide-open, others with a defender in his face.
Tennessee built a 48-28 halftime lead behind seven three-pointers. The Vols' tough perimeter defense confused the Longhorns guards and kept them from dumping the ball into center LaMarcus Aldridge, who finished with 15 points.
No. 8 Oklahoma 68, Southern U. 54
Norman, Okla. - Taj Gray continued his resurgence with 22 points and 14 rebounds, and Oklahoma beat Southern University.
Gray, the Big 12 Conference preseason player of the year, averaged only 10.3 points during Oklahoma's first four games, but has averaged 20.7 points during the past three. He equaled his season highs in points and rebounds.
Colorado 96, UC Irvine 80
Boulder, Colo. - Richard Roby scored 20 points, and Martane Freeman added 17 as Colorado extended its winning streak to five. Marcus Hall contributed 14 points and five assists. Colorado (6-1) has won all seven meetings between the two teams.
The victory spoiled the homecoming of Denver native Ross Schraeder, who had 26 points to lead UC Irvine (4-4).
Kansas State 74, Bethune-Cookman 61
Manhattan - Cartier Martin scored a career-high 27 points, and Kansas State used a second-half surge to beat Bethune-Cookman. David Hoskins scored 15 of his 17 points after halftime for the Wildcats (7-1), who took an early nine-point lead but trailed by one at the break. Mario Taybron added 12 points for Kansas State, tying a career high.
UNLV 84, Texas Tech 73
Las Vegas - Louis Amundson had 19 points and 13 rebounds, and Jason Petrimoulx added 17 points as UNLV snapped a five-game losing streak and beat Texas Tech in the Las Vegas Showdown.
Texas A&M; 67, Savannah State 34
College Station, Texas - Texas A&M; forced 34 turnovers and held Savannah State to just nine field goals. A&M;'s Dominique Kirk led all scorers with 17 points.
Nebraska 76, Chicago State 65
Lincoln, Neb. - Wes Wilkinson scored 20 points, and Nebraska used a 20-5 second-half run to defeat Chicago State. Nebraska (7-2) trailed by as many as seven in the first half.
Ohio State 70, Iowa State 67
Des Moines, Iowa - Je'Kel Foster scored 28 points, and Ohio State extended its best start in 15 years with a 18-7 run down the stretch. Ohio State (7-0) hasn't been unbeaten after seven games since the 1990-1991 team started 17-0.
Copyright 2018 The Associated Press. All rights reserved. This material may not be published, broadcast, rewritten or redistributed. We strive to uphold our values for every story published.