It's crunch time: The clock is ticking down to Christmas, the stuff you wanted is all gone and you're in a rush to snap up your presents and hustle them to the post office.
But that's no excuse to reach for the fruitcake, or rewrap the duds you got last year.
Everyone has horror stories about their most wretched gifts; as a gift-giver, you don't want to become part of that lore. So while you may be too late to snap up the suggestions from the numerous "Best Gift Ideas of 2005" lists, how about taking the time to stay off this "Worst Gift" list? Here are seven gifts to avoid at all costs:
The Chia Pet
We assume you're shooting for irony when you pause in front of the clay rodent with alfalfa sprouts growing atop its head. But irony and $20 could buy you, er, something else. Rupa Sekhar, a 24-year-old financial adviser who lives in New York City, received a Chia for Christmas and sums up the memory well: "I once got a Chia Pet. I knew it was a joke, but secretly thought I would rather have the money to buy a couple lattes at Starbucks, or pay part of my dry-cleaning bill, buy some Clorox wipes for my desk at the office."
Fast-food gift certificates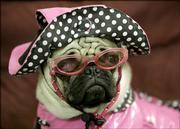 Nothing says "I have no idea what to get you" like a gift certificate for cheap food. If your aunt Mildred is running out of food stamps, this might be a thoughtful gift. Otherwise, leave it to the third-grade teachers of the world. Besides, your second cousin isn't getting any skinnier. Don't encourage bad habits.
Self-improvement gifts
Avoid any not-so-subtle suggestions. You say to yourself, "what girlfriend wouldn't like a gift certificate for a deep tissue massage from the Bliss Spa" or "I know she gets a monthly facial from Mario Badescu." Fabulous idea. But picture your girlfriend's face when she opens a gift card for a Brazilian bikini wax, or botox, or underarm electrolysis. That's not a smile of delight; her teeth are clenched to stop her from killing you.
Underwear or lingerie
This can turn into a big fat holiday atrocity. Women often opt for embarrassing boxers with cuddly teddy bears or red hearts for their boyfriends. And buying underwear for women is like stepping into a minefield: Buy a size too small, you'll make her feel fat. Too big, she'll feel fat. "One time a guy I had only been dating for a couple months bought me something only Jenna Jameson would feel comfortable in," said Maya Ellman, a 25-year-old public relations specialist from San Diego. If she really likes cotton, now isn't the time to turn her into a sultry vixen.
Homemade Clothing
A no-brainer. Remember Ralphie's pink bunny suit in "The Christmas Story"? It's safe to say even if your hand-sewn creations are incredible delights, made with love, they will hate it. Choosing clothes in general is difficult: You remember that fuzzy, puffy concoction your mom gave you, right? So why would your little brother like the hot pink scarf you made in knitting class?
Tube Socks
No one younger than 60 should be allowed to sport the tube. And while tube socks for Grandpa may serve as a functional present, remember that this type of gift should be left up to Grandma, and Grandma only. If Dad happens to receive tube socks and likes them, kick his style up a notch and invest in a nice pair of argyle trouser socks instead.
Pets
Who wouldn't like to open a big, brightly colored gift only to have a little button-nosed, fawn-colored pug pop its head out? It's a fantastic idea - until he poops on your carpet. And you have to take him to the veterinarian. And buy him food. And take him to obedience school. And hire a dog-walker. Adorable as a pet would be, it's safe to say this isn't a good impulse buy - unless you really wanted to give your snookums a big fat bill and years of obligations.
Copyright 2018 The Lawrence Journal-World. All rights reserved. This material may not be published, broadcast, rewritten or redistributed. We strive to uphold our values for every story published.