Tehran, Iran — Remarks by Iran's hard-line president that the Holocaust was a "myth" and Israel should be "wiped off the map" are not just wild comments by a novice leader, but part of a strategy to keep anti-Israel sentiment alive in the Middle East, analysts said Saturday.
Mahmoud Ahmadinejad, whose comments have drawn international condemnation and ratcheted up tensions in an already volatile region, is also trying to revive the radical fervor of Iran's 1979 Islamic Revolution after eight years of rule by a more moderate Iranian government.
"The man is still living in 1979 and believes Iran represents a revolution more than just a state," said Mustafa Alani, director of security studies at the Gulf Research Center in Dubai. "He believes (verbally) attacking Israel, which was a key principle of the revolution, will serve Iranian interests in the region more than polite, rational policies."
Ahmadinejad, who took office in August, caused an international outcry in October by calling Israel a "disgraceful blot" that should be "wiped off the map."
Leaders around the world also condemned him in recent days for calling the Nazi slaughter of Jews during World War II a "myth." He added that if the Holocaust did happen, then Israel should be moved to Europe or North America, rather than making Palestinians suffer by losing their land to atone for crimes committed by Europeans.
Further, Ahmadinejad's rejection of U.S. and European calls to curb his country's nuclear program has only raised suspicions that Iran is trying to build atomic weapons in violation of its commitments under the Nuclear Nonproliferation Treaty.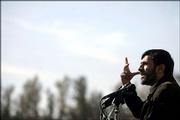 Despite the Tehran regime's repeated insistence that the nuclear program has only the peaceful aim of generating electricity, Israeli officials and politicians have openly discussed the possibility of attacking Iran to cripple its nuclear development capabilities.
Iranian democracy activists - and some conservatives - say Ahmadinejad's words are hurting the country, but his anti-Israel rhetoric resonates with militants in the hard-line camp, including Iran's supreme leader, Ayatollah Ali Khamenei.
"His comments have seriously tarnished the image of a great nation in the world," said reformist writer Ahmad Zeidabadi, who described Ahmadinejad as Iran's real enemy.
But Khamenei, who has the final say on all state matters, has implicitly supported Ahmadinejad, saying armed resistance, not negotiation, is the way to deal with Israel.
"There is no doubt that the president is acting in close coordination with the leader," hard-line lawmaker Emad Afrouq said. "Ahmadinejad is the closest president to Khamenei in the last 16 years."
Afrouq said the president's comments are "part of a strategy" to influence international public opinion about Israel's occupation of Palestinian territories, not to lay the groundwork for war with the Jewish state.
"The bottom line is he wants to keep anti-Israeli sentiments alive," Afrouq said. "He doesn't think of military action."
Some see Ahmadinejad's rhetoric as part of a policy to boost his weak standing in Iran's complicated power structure, segments of which have attacked the new president on basic domestic issues such as unemployment and the economy.
Copyright 2018 The Associated Press. All rights reserved. This material may not be published, broadcast, rewritten or redistributed. We strive to uphold our values for every story published.