Savannah, Tenn. — Tyler Emmert ended a memorable career with another memorable weekend, leading Carroll College (Mont.) to its fourth straight NAIA football championship, 27-10 over St. Francis (Ind.) on Saturday.
Emmert completed 20 of 36 passes for 278 yards and three touchdowns as the top-ranked Fighting Saints (14-0) rolled to a 17-3 halftime lead and held off the second-ranked Cougars (13-1) for the second straight year in the NAIA title game.
Emmert was selected the offensive most valuable player in the championship game for the third straight year. That honor came a day after he claimed NAIA Player of the Year honors for the second time in three seasons and two days after he was selected the first-team quarterback on the Associated Press Little All-America team.
"It's tough to walk off the field, but it's not about records and not about numbers. It's about this group of guys and what we've been able to accomplish," said Emmert, who is 74-3 as a starting quarterback dating to his days at Capital High in Helena.
The Saints, winners of 21 straight games, become only the second team in college football history to win four straight national titles. The other was Augustana (Ill.) in 1983-86 in NCAA Division III.
"We haven't talked about history, or wanting to be part of it, because if we didn't reach that goal, it would have been a big letdown," Carroll coach Mike Van Diest said. "But this group is obviously special. They play hard and find a lot of different ways to win."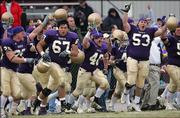 Emmert added 20 yards on the ground and finishes his career with an NAIA-record 13,979 yards of total offense. He finished with 1,037 completions, two shy of tying the record for any quarterback at any level of college play.
St. Francis has three losses in its last 41 games - all three to Carroll in the championship games and the 2003 NAIA semifinals.
Division III
Salem, Va. - Mount Union is back on top in Division III football - and more than happy to say so.
"We had a lot of doubters," defensive end Greg Brauer said after the Purple Raiders beat Wisconsin-Whitewater, 35-28, on Saturday in the Amos Alonzo Stagg Bowl for their eighth Division III title in 13 years, but first since 2002.
"I was here for both losses, and it hurt more than anything. We just got after it in the weight room, studied film and studied hard. People were saying Mount Union's not good anymore, they're washed up. There's no more dynasty.
"Well, we're back."
Nate Kmic ran for three touchdowns, including a 95-yarder, Mike Jorris threw for two scores, and the Purple Raiders (14-1) turned Wisconsin-Whitewater away with nothing several times after being backed up near it own goal line.
Mount Union had an interception at its own one, batted down a sure TD pass and had a goal-line stand.
"That was really a pivotal point there," Mount Union coach Larry Kehres said of the stand, which came when his team stopped the Warhawks twice from the one, preserving a 14-7 lead that quickly became much larger once Mount Union got the ball.
Two plays later, Kmic took a handoff through the left side of the line, broke into the open field and outran several defenders down the left sideline to make it 21-7.
Wisconsin-Whitewater (14-1), making its first championship-game appearance in 39 years, drove for a touchdown on its opening possession to lead 7-0, but came away empty on five other possessions after driving into Purple Raiders territory.
Copyright 2018 The Associated Press. All rights reserved. This material may not be published, broadcast, rewritten or redistributed. We strive to uphold our values for every story published.