Los Angeles — For Carol Burnett, once around with "Once Upon a Mattress" was far from enough.
Before Burnett established herself as one of television's great comedians, she made a sparkling Broadway debut in the 1959 musical. She revisited it in a 1964 black-and-white TV special and in another broadcast version in 1974.
But her fondness for the tale, a peppy spoof of the tale of the princess and the pea, remained undiminished. So Burnett is taking a fourth crack at it, with a twist: she's graduated from the role of princess to that of queen, as well as executive producer.
The new version airs 8-10 p.m. today on ABC's "The Wonderful World of Disney," with Burnett in fine form as the overbearing Queen Aggravain. With overblown motherly devotion, she has contrived to keep her son, Prince Dauntless, from marrying and living happily ever after.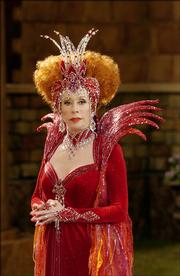 "It's been kind of roiling around in my mind for 10 years now, redoing it, playing the queen, having a part in the production," Burnett said. "I felt a lot of people now watching television have never seen 'Mattress.' There have been two or three new generations."
For a fair number of TV viewers, however, it will be familiar material. A Broadway revival (in 1996, with Sarah Jessica Parker) had a lackluster run, but "Once Upon a Mattress" remains among the most-performed musicals at schools and community theaters.
Part of its appeal, Burnett speculates, is its array of "meaty, wonderful roles."
Then there's the offbeat story, with the fairy-tale roots that attract children and, for adults, the "smother love, the Oedipal thing," as Burnett put it, referring to the overzealous queen so intent on keeping her aging boy a bachelor.
Other numbers in the musical (created by Marshall Louis Barer, Dean Fuller, Jay Thompson and Mary Rodgers) include "In a Little While," "Shy" and "Sensitivity Waltz." The ABC special was directed and choreographed by Kathleen Marshall.
Tracey Ullman plays spunky Winnifred with comedic gusto, while Burnett clearly relishes the chance to put her stamp on the scheming royal. Adding to the show's charm are Denis O'Hara as Dauntless; Matthew Morrison and Zooey Deschanel as star-crossed Harry and Larken and Michael Boatman as the jester.
Copyright 2018 The Associated Press. All rights reserved. This material may not be published, broadcast, rewritten or redistributed. We strive to uphold our values for every story published.