The question of whether the enforcement of Lawrence's smoking ban should be halted - at least temporarily - is now with a judge.
Douglas County District Court Judge Jack Murphy on Friday heard arguments - but made no immediate ruling - on a request from Lawrence bar owner Dennis Steffes that the 18-month-old ban should be halted until a lawsuit claiming the ban has violated his constitutional rights has been decided.
City attorneys, though, vigorously defended the need for the ban, arguing that Steffes produced no evidence the smoking ban caused decreased sales at Coyotes and Last Call, the two bars owned by Steffes.
"It is a possibility that you are just a bad businessman, isn't it?" Scott Miller, a city attorney asserted in court.
Steffes presented records indicating that since the smoking ban went into effect in July 2004, Coyotes has never had a month of sales better than in the same month prior to the ban.
"We are suffering damages," Steffes said. "We are suffering extinction really, if this pace continues."
But city attorneys said that Steffes had done no study other than randomly asking customers and acquaintances about whether the smoking ban was responsible for his drop in sales.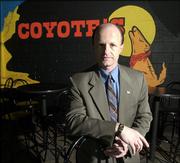 "Perhaps his business just fell out of favor, perhaps he hasn't been playing the right mix of music," said Toni Wheeler, a city attorney.
City attorneys also questioned why Steffes presented no evidence showing his actual profits - the dollars he actually pockets - had fallen.
After the hearing, Steffes said his profits, in addition to his sales, had fallen since the smoking ban. He said he did not offer that information to the court because he did not have exact figures, and he believed a loss in sales was enough to show that the ban had harmed him.
"I can't attribute the decline to anything else but the smoking ban," Steffes said after the hearing.
City attorneys also urged the court to reject Steffes' request to suspend enforcement of the ban because it would do more harm than good by confusing city residents.
Murphy said he would issue a written ruling determining whether the ban should be suspended. Until then, the ban remains in effect. He did not issue a timeline for the ruling.
After attorneys finished their arguments Murphy said only: "Thank you, I guess."
Copyright 2018 The Lawrence Journal-World. All rights reserved. This material may not be published, broadcast, rewritten or redistributed. We strive to uphold our values for every story published.