The call seemed innocent enough, Galen Tarman recalls: A man phoning from California, looking to buy four mattresses for his church group.
The fact that the words were coming through a relay service - one designed to serve hearing-impaired callers - only steeled Tarman's resolve to help out and make a sale.
"I tried to ask some questions," Tarman recalls. "I had difficulty getting the person's correct name and address - it's difficult sometimes working with the system, because a person needs to transcribe the information. But I finally got him to tell me he would e-mail me with all the correct information."
Still, Tarman says now, it seemed "a little odd."
Turns out his hesitancy was warranted.
Tarman, owner of Blue Heron in downtown Lawrence, spent three days following a trail of resulting e-mails, a credit card number and other information to foil the man's scam.
The man, who had given Tarman a stolen account number and a delivery address in Ghana, never did get his mattresses.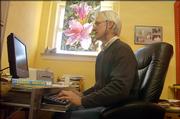 But Tarman worries that other businesses in Lawrence and the surrounding area might not be so fortunate. With the initial call coming in through a relay service - with an operator reading words that were typed perhaps a continent away - Tarman nearly let his guard down enough to lose $3,000 on a deal that was a fraud from the beginning.
"I spent a lot of time on this, and I can see it happening to someone else - it probably does, every day," Tarman said this week. "Think about it: It totally makes sense for them. They're probably sitting someplace halfway around the world, they don't have to speak English and they can masquerade behind their keypad."
Such scams are becoming increasingly common and are causing problems for people making legitimate calls using relay systems, said David Rosenthal, a spokesman for the Kansas Relay Center, operated by AT&T; in Lawrence.
The Kansas Relay Center, with 70 employees at 734 Vt., handles about 432,000 calls a year, all of them domestic. Calls made into the system can be tracked through caller ID and, because of equipment and technology involved, are relatively difficult to use for fraud.
But increasingly, he said, scammers connect into so-called IP Relay centers, which accept electronic messages from any phone anywhere in the world and transform them into voice communications that come through a regular phone.
That's likely what Tarman received, Rosenthal said.
"All a person would need is a personal computer and Internet access, and there is no way to tell where the person is calling from, so apparently groups in Africa are using it to target unsuspecting businesses into sending materials to Ghana or Nigeria or other African countries - and using stolen credit cards, which is unfortunate," Rosenthal said.
Such calls are free, he said, because a federal fund finances the operations of IP Relay centers.
"Unfortunately, there are people who are looking to scam others, and they will look for ways to get around anything to get what they want," Rosenthal said. "And unfortunately, IP Relay seems to be the perfect vehicle for their scams.
"It is incumbent on the businesses to be suspicious of calls that require merchandise be sent overseas - especially from a person who has never been in the store - and provides a credit card."
Rosenthal, who is hearing-impaired himself, discussed the fraud issue Friday through a TTY relay, the technology used by the Kansas Relay Center. He noted that all TTY operators - and, for that matter, those at IP Relay centers - are required by law simply to relay conversations without comment. That leaves them powerless to advise callers about the likelihood of a scam being perpetrated.
"In any service designed to do good, there inevitably will be some groups who will find out about it and take advantage of it for fraudulent reasons, and that leaves a bad rap for the service," Rosenthal said. "It ends up hurting those of us with good and honorable intentions. We see this all the time."
Tarman, meanwhile, will continue to keep his guard up. After the latest call, he contacted the credit card company and learned that it had been stolen.
"The lesson in all this is, obviously, you have to be careful," he said.
Copyright 2018 The Lawrence Journal-World. All rights reserved. This material may not be published, broadcast, rewritten or redistributed. We strive to uphold our values for every story published.