Darnell Jackson's NCAA-mandated nine-game suspension proved to be much more than a slap on the wrist.
It was a kick in the gut to Kansas University's sophomore power forward, especially since three of the nine games took place in Maui, Hawaii.
"I was looking forward to going on that trip. That's all I was talking about last year," Jackson said Friday, speaking publicly for the first time since Nov. 16, when he was penalized for accepting about $5,000 worth of benefits from a KU booster in his hometown of Oklahoma City.
"Hey, I got a postcard," Jackson added with a big grin. "Coach (Kurtis) Townsend's daughter sent me a postcard."
Rodrick Stewart, ineligible because of NCAA transfer guidelines, also did not make the trip to paradise.
The 6-foot-8, 240-pound Jackson kept his head up during the suspension, which will last one more game.
"Sitting out nine ... it went pretty fast," said Jackson, who will be eligible to play Thursday versus Northern Colorado. "I thought it was going to be long. It was cool. I had to keep a positive attitude. Me and Rod would gather every day. Coach Hudy (Andrea, strength) was busting us in the weight room, had us running."
Jackson said at first it was tough to get over the pain of being penalized for accepting gifts from a man he had considered a longtime friend and mentor -- KU grad Don Davis.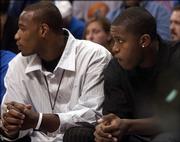 "I wasn't depressed. I was kind of mad (at NCAA)," Jackson said. "I knew him since I was in high school. I was pretty shocked. I was like, 'Wow, I didn't know I was doing anything wrong.' I guess it's a bad thing. I didn't know the rules, so ... you have to take your medicine and move on. It's a way of life."
Davis helped counsel Jackson after Jackson's grandmother died from injuries sustained in a car wreck last spring, an accident that also caused life-threatening injuries to his mom. Davis and Jackson since have distanced themselves.
"We just came up with an agreement we wouldn't talk to each other until all this was over," Jackson said. "Sometimes it is (difficult) if I need to have someone to talk to. He was that man right there I could talk to him about anything."
As tough as it has been to watch his team compile a 4-4 record without him, Jackson said the benching was "nothing compared to what happened to me over the summer, my family and all."
The good news is Jackson is about ready to be inserted into the lineup where he believes he can help the team start rolling off some victories.
"I've improved a lot, scoring-wise, playing defense, rebounding. I've gotten a lot stronger," said Jackson, who averaged 2.0 points and 1.7 boards in 24 games his freshman season. "I'm ready to get on the court with my friends. It gets lonely out there without me. I miss 'em a lot."
The players and coaches also miss Jackson.
"We definitely needed him. He's a great guy. He's been playing great in practice," sophomore forward Sasha Kaun said. "I was a little upset he couldn't play in the games. Having him back ... just being there, talking on the floor, playing tough, hard, getting rebounds and stuff ... he'll be a big impact on the floor."
Coach Bill Self hopes so.
"He's been one of our most consistent players in practice. I can't believe it won't be the same when the game starts," Self said. "He's done a good job as far as conditioning and has confidence to get the ball in the basket. He's never been a guy asked to score a lot of points. He's becoming a scorer to go along with knocking and banging people. At least he's been doing that in practice."
Practice does not provide a player the same rush as game action. Jackson is eager for that rush to return Thursday. His mom, Shawn, who recently had surgery on her arm, will be at the game.
She knows what her son can do on the court. What about KU's fans?
"I don't need a game to show people how much I've improved. I know, and coach knows, and my teammates know. I'll show everybody. I'll show you. I'm going to keep it a secret until then," Jackson said.
¢ Stewart update: Stewart, a sophomore guard from Seattle, took his last final exam on Friday -- a test that was not multiple choice -- with more than 100 students in the class. That means it could be a challenge for Stewart to get all his grades to the registrar by Monday. Self hopes Stewart will be deemed eligible to play by 6 p.m. Monday -- tipoff for the KU-Pepperdine game. Stewart could practice, but not play, in games the past two semesters in accordance with transfer rules.
¢ Double-double average: Former KU center Eric Chenowith is averaging 13.2 points and a league-leading 13.8 boards a game in 12 games with the Idaho Stampede of the CBA.
Copyright 2017 The Lawrence Journal-World. All rights reserved. This material may not be published, broadcast, rewritten or redistributed. We strive to uphold our values for every story published.