Boulder, Colo. — Colorado hired Dan Hawkins as its head coach Friday, giving him responsibility for restoring the flagging reputation of a program hammered by problems on and off the field.
The university's governing Board of Regents voted unanimously to hire Hawkins and give him a five-year contract worth $900,000 a year, which includes $50,000 to run the school's summer football camps.
"This is a very good hire for this university," Chancellor Phil DiStefano said. "It's another sign that the athletic program is moving in the right direction."
Hawkins went 53-10 during the past five years at Boise State, winning the Western Athletic Conference four times -- including a tie for first with Nevada this season -- and building a reputation as someone who runs a clean-cut, forward-thinking program.
Hawkins replaces Gary Barnett, who was forced out last week after a troubled tenure that included a sordid recruiting scandal and allegations of financial mismanagement brought to light in a state audit released Monday.
Barnett's team also lost 70-3 to Texas in the Big 12 Conference title game, a loss that accentuated how far CU has fallen from the elite program it once was in the early 1990s under Bill McCartney.
Hawkins recognized the challenges he faced, but said coming to Boulder was too good a fit to pass up. He also said he thrived when he was told something can't be done.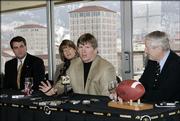 "The more they said that, the more I say, 'Oh yeah, you think so, I'll show you something,"' Hawkins said during his introductory news conference.
Many think the 45-year-old Hawkins would have been in line for some of the big openings last year -- like at Notre Dame or Florida -- had another up-and-comer, Urban Meyer, not shined so brightly at Utah during the same season.
At the beginning of this season, Boise State was viewed by many as this season's Utah, a non-BCS team that might inject itself into the national-title picture. Back-to-back losses to open the season, including a nationally televised 48-13 thumping by Georgia, sullied those hopes, but didn't taint Hawkins' reputation.
He recruits well in California, which is one place CU must do better. Last week, the Buffs' 2006 recruiting class was ranked 74th in the nation and last in the Big 12 by Rivals.com.
Hawkins also is expected to play well with finicky boosters in Boulder -- he has, after all, been known to ride his mountain bike to work -- who are known to want a top-notch program but have been unwilling to accept the inevitable warts that come with it or shell out the big money to finance it.
As if to show his impact right away, Hawkins and athletic director Mike Bohn announced they received a $1.5 million donation this week that will go toward an indoor practice facility, something long missing from the CU campus.
Hawkins plans to coach Boise State on Dec. 28 against Boston College in the MPC Computers Bowl. The Buffs are playing Dec. 27 in the Champs Sports Bowl and will be led by interim coach Mike Hankwitz.
Copyright 2018 The Associated Press. All rights reserved. This material may not be published, broadcast, rewritten or redistributed. We strive to uphold our values for every story published.