LEXINGTON, KY. — Kentucky center Randolph Morris' season-long suspension for his attempt to enter the NBA draft was reduced to 14 games Thursday by the NCAA.
The NCAA cited new information for softening its punishment after Morris tried to go into the draft. Additional information provided by the school showed that Morris clearly intended to retain his collegiate eligibility while declaring for the draft, the NCAA said in a statement.
The new information "provides additional understanding of Morris' original intent to enter the NBA draft as well as his mind-set during that process," the NCAA said.
Morris, a 6-foot-10 sophomore, also must repay expenses related to the tryouts -- which amounted to more than $7,000 from nine NBA teams.
"In exploring my NBA options, I made poor choices," Morris said. "Those choices included accepting bad advice while putting distance between me and my coaches and teammates at UK. I take full responsibility for those actions.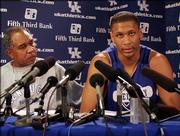 "It wasn't obvious to me as I was going through this process, but looking back, I now see how my actions were disrespectful to coach (Tubby) Smith and the University of Kentucky. Playing basketball at the University of Kentucky is a privilege that few athletes get to enjoy. I intend to make the most of this opportunity to be a part of the greatest basketball program in America."
Kentucky provided the NCAA the original copy of a fax sent by Morris to Smith, notifying the coach of his plans to enter the draft. In the one-paragraph fax -- released by the university on Thursday -- Morris told Smith that "my intent is not to obtain an agent so as to maintain my collegiate eligibility."
Smith said he had misplaced the fax and only found it last week.
Morris will miss all of Kentucky's nonconference schedule, including a showdown with No. 4 Louisville on Saturday and a game at Kansas University on Jan. 7, but will be available for the Southeastern Conference opener against Vanderbilt on Jan. 10.
He will continue to practice with the Wildcats in the interim.
Copyright 2018 The Associated Press. All rights reserved. This material may not be published, broadcast, rewritten or redistributed. We strive to uphold our values for every story published.