It's still a long, long way off, at least for a Christmas procrastinator like me.
But rather than wait until the last minute, I put down the eggnog and got started this week on some of the family gift-buying.
My wife lets me play Santa for the fun items for my son and three daughters - the stuff that buzzes, clicks, whirs, flashes and comes with an optional two-year service agreement.
Topping my list were a couple of items my twin daughters who are in college had requested: computer inkjet printers.
Bonnie just wanted a simple printer to use for homework and papers. Julie was interested in a multi-function device that could print, scan and copy.
The Grinch factor
Humming some holiday tunes, I called on Jerry Landers, a customer service specialist who heads the computer department at Office Depot, 2525 Iowa St.
"I highly recommend HPs," Landers said.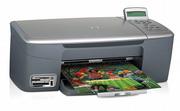 Landers said that some of the other brands he sells have trouble with their print heads. If they don't get used for a while, the print heads can get clogged up with ink, ruining the printer.
Hewlett-Packard printers don't have the ink-clogging problem. Whenever you buy a new ink cartridge, it comes with a new print head, Landers said.
"If you go with an HP, you can get individual print heads, you can get individual colors, you can get features and functions and they have various machines to suit everybody's needs," he said.
Landers told me he would recommend the HP Deskjet 5440 as a simple, entry-level printer for a college student. It costs $79.
He also carried a rock-bottom entry-level Canon printer for $50. That price seemed low to me.
Audio Jerry Landers of Office Depot.
Printer links
Dave's "A" list
"Are there any hidden costs?" I asked.
Oh, yes, he said. The Grinch factor is that many low-end printers don't come with a USB cable to connect them to a computer. That little cable costs about $20 - nearly half the price of the printer.
Who's naughty and nice
I also checked out what some consumer Web sites were saying about the low-cost printers.
PCMag.com gave the HP Deskjet 5440 a "good" rating, 3 out of a possible 5 points, touting its ability to use six-color inks and print directly from digital cameras.
PCWorld.com gave the HP 5440 an 82 out of 100 rating for a "very good," and gave it 3.5 out of five stars. PCWorld.com ranked the HP 5440 as a "best buy," and gave it the No. 4 on its Top 10 list of printers.
HP's specs on the printer said it would print 22 pages per minute for black ink and 21 pages for color. The resolution was 4,800 by 1,200 dots per inch.
But the PCMag.com reviewer said the 5440 was slow at printing photos, clocking in on a four- by six-inch test photo at 3 minutes, 44 seconds.
Dashing through the prints
PCMag.com's reviewer seemed to like the Canon PIXMA ip1600 printer much better than the HP 5440.
Not only was the Canon iP1600 less expensive ($49) than the HP 5440, it was faster at photos, printing at 1 minute and 58 seconds for PCMag.com's test 4-by-6-inch print.
PCMag.com gave the Canon a 3.5 out of 5 rating for "good," but pointed out that it doesn't come with a USB cable. CNET.com gave the printer a 7 out of 10 rating and PC World gave it a 77 out of 100 rating. PCWorld also put the Canon iP1600 as No. 9 on its Top 10 list of printers.
Canon's specs say the iP1600's printing resolution is 4,800 by 1,200 color dots-per-inch. It prints 19 black and white pages per minute and 16 color pages per minute.
A four-color printer, the iP1600 uses Canon's new "ChromaLife 100" inking system, which means if you printed a photo on archival-quality paper and put it in an archival-quality photo album, it would be expected to last 100 years without fading.
I also checked out a higher-end model, the Canon PIXMA iP4200 ($129). PCWorld.com ranked the iP4200 as its No. 1 printer on its list of Top 10, with a 79 out of 100 rating and a "best buy" ranking.
The Canon iP4200 has color resolution of 9,600 by 2,400 dots-per-inch, and puts out its highest quality 4-by-6 inch print in 51 seconds. It will print 29 black and white pages per minute and 20 color pages per minute.
Stocking-full of functions
My next step was to look for an all-in-one unit for Julie to scan, print and copy. Landers steered me again to an HP printer, the HP 5610. But it offered faxing, which Julie didn't need.
Looking at some less expensive HP all-in-ones, I found the HP PSC 1610, which was around $114 on sale.
PCWorld.com gave it a "very good" ranking, with 80 out of 100 points.
One of the features I liked was that it seemed pretty small for an all-in-one model, taking up only 17.3 by 11.2 inches (when the paper tray is closed), which is pretty important in a crowded dorm room.
It also hooks up directly to a digital camera with a PictBridge connection. And it reads most media cards.
Its flatbed scanner picks up at a resolution of 1,200 by 4,800 dots per inch. The HP specs say the 1610 prints 23 pages per minute in black ink and up to 18 ppm in color.
One of the all-in-one models I came across that got high marks on consumer sites was the Canon MP500 at $199.
The specs say it prints 29 pages per minute in black ink and up to 19 ppm in color.
It has a 2.5-inch LCD screen to see, edit and print directly from most digital camera memory cards and direct printing from PictBridge devices.
The scanner can capture at a resolution of up to 1,200 by 2,400 dots per inch.
Visions of sugar plums
Bonnie caught me by surprise.
"Hey dad, what do you want for Christmas?"
I had been having so much fun hunting down gifts for everyone else that I'd forgotten to make my own list.
"Something that you can plug in. Or drive," I told her as she got in her car to head back to Iowa City to study for finals this week. I could tell by her look she wanted me to be serious.
"I don't know. Clothes? A tie?" I said as she drove off.
A little later I got the question again.
"What do you want for Christmas," Katy, my eldest daughter asked as we sat in my kitchen.
I sipped some egg nog and started a mental list: a video iPod, a Nokia 770 Internet tablet, a Sony's XBR Plasma WEGA High Definition Television.
And a Moller M400 Skycar. Neiman Marcus has the prototype cherry red Skycar in its Christmas catalog for $3.5 million - an awful lot of Christmas green.
Hmm. I wonder how sophisticated those entry-level printers are - nah, too much ink.
Still, I pictured myself taking off vertically from my driveway and zooming across the treetops in my red Skycar at 350 mph, like Santa without the reindeer.
"Dad, remember, I'm just a poor cosmetology student," Katy said, playing Scrooge to my thoughts.
I told her I'd print her out a more realistic list.
But I didn't understand her rush. Don't we still have 10 days left 'til Christmas Eve crunch time?
Copyright 2018 The Lawrence Journal-World. All rights reserved. This material may not be published, broadcast, rewritten or redistributed. We strive to uphold our values for every story published.