Stephan Osterhaus couldn't quite get the box up on the cookie table.
The 8-year-old member of Cub Scout Troop 3013 squeezed the stuffed-full cardboard box up against the lip of the table and yelled at a group of Webelos bagging up baked goods.
"I need something in here," he shouted.
The box, already filled with books, toothpaste, dental floss and other goodies, is headed to Camp Slayer, the former den of former Iraqi President Saddam Hussein.
For the Kansas soldiers stationed there, this box is Christmas.
The idea began back in October, said Troop 3013 committee chairman Monte Turner, when the Scouts were looking for a Christmas project.
They knew the theme: Faith, Hope and Charity, the Scouts' December motto. Now, they had to find a way to give.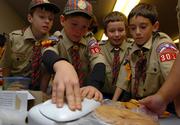 In November, Turner said, he called the Army to find out more about sending care packages to Iraq, to the Kansas National Guard unit he knew was being deployed there.
The Army gave Turner a list of what he might send in a care package, he said. The list was long, overwhelming. He asked the other parents how to collect the goods they needed.
"We thought the businesses around town might help us," Turner said.
He went to several local stores, some big, some small. They all said they couldn't help.
"It was really kind of disappointing," he said.
After the let-down, the parents made a decision: This is something we have to do. They opted to pay for the care packages themselves, Turner said.
So the troop Wednesday night packed dozens of boxes full of pens and notepads, boxes of moist-wipes - conveniences unknown in the blistering heat and sand of the Iraqi desert.
The boxes will ship out in time for Christmas, Turner said.
The Scouts and parents who put the boxes together tried to deliver some personal meaning with the care packages, Turner said. One man included a copy of his favorite Jack London book with every box.
The troop also included a group letter in every box, thanking the soldiers for their work and wishing them a safe voyage home.
But many Scouts wrote their own letters. They asked questions, trying to understand a place they've never known.
"My uncle was a soldier, too," Glen from Scout Den 2 wrote. "Will you be fighting on Christmas? Do you fight on holidays?"
A Scout named Daniel typed a quick message.
"I hope you survive the war and make it back home," he wrote. "If you make it back, your family will be happy, and proud."
Copyright 2018 The Lawrence Journal-World. All rights reserved. This material may not be published, broadcast, rewritten or redistributed. We strive to uphold our values for every story published.