Theo Hall offers some advice for folks looking to unload six months' worth of empty beer bottles, crushed soda cans, broken-down diaper boxes and washed-out detergent containers at Wal-Mart's new community recycling center.
Sort. Park. Walk.
"It makes a big difference. A huge difference," said Hall, who reopened the popular recycling center Wednesday south of Wal-Mart, 3300 Iowa. "We want to encourage people not to stop in the middle of the road. We'd prefer that they park and walk their stuff up : and have their stuff sorted. That's the biggest thing. It makes it so much easier and that much shorter. You're in and you're out."
He's hoping people will take his advice, because he knows a flood of recyclables will be coming his way.
Hall and other center officials expect to collect three times the usual loads of glass, plastic, metal and paper during the coming weeks, as area residents empty their garages in anticipation of the holidays.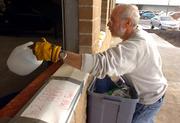 The new center is twice the size of the former recycling drop-off site, which closed in June to make way for expansion of the Wal-Mart store - specifically, its new automotive service area. The entire Wal-Mart is being converted into a "supercenter," with a grocery store, drive-through pharmacy and other features to keep up with consumer demand.
While the overall Wal-Mart project won't be expected to be finished until late next year, the recycling center originally had been scheduled to be reopened by Oct. 1. Then November. Then this past Monday.
But a wiring problem inside one of the center's compactors pushed the "soft" opening until Wednesday morning, when Ruth Becker strode to the phone by Wal-Mart's fitting rooms and made the announcement she'd been waiting months to deliver:
Attention associates and Wal-Mart shoppers: The recycling center is open!
"It's a wonderful feeling," said Becker, the store's green coordinator, who heard a few screams of "Yeah!" after her words made it through the loudspeakers. "It's been a long time, and we're just thrilled we're open. People are coming up with great big smiles."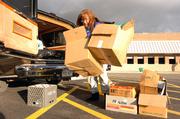 And big loads of materials. As word spread throughout the day that the center had reopened, more and more cars, trucks and vans pulled into the new parking area off 34th Street, south of the Wal-Mart store.
"They're full, from the back seat to the trunk," Hall said. "People have just been stockpiling it, saving it all until the doors reopened.
"Well, we're open. We're ready."
Last year the center accepted 6 million pounds of materials for recycling. The center is owned by Wal-Mart and operated by employees and consumers of Community Living Opportunities, a Lawrence organization that assists people with mental and developmental disabilities.
Hall, who has overseen the operation for six years, said his employees had kept themselves busy by delivering Meals on Wheels, cleaning up parks and handling other community services.
But keeping the recycling center going is their preferred responsibility, he said, and five staffers and three consumers were on hand Wednesday to keep equipment running and containers from overflowing.
"It makes everybody who works here feel real good, seeing everybody again," Hall said. "They're coming out in full force now."
This weekend looks to be the real test. As word gets out about the center's reopening, Hall and Becker figure that the flow of materials will continue to pile up. Hall intends to have extra staffers on hand to keep things moving from 8 a.m. to 8 p.m. daily through Saturday, and from 9 a.m. to 6 p.m. Sunday.
The center took in 567,860 pounds of materials last December, and 497,860 pounds in January, typically the busiest two months of the year.
Becker is asking that people who bring in materials be considerate of the operation. And she reminds people that any materials left at the curb will be thrown in the trash, defeating the whole purpose of making a trip to the center.
"We're absolutely thrilled to be open, but if they leave their recyclables on the curb, it's trash," she said. "They're not helping us at all."
Back in business
Wal-Mart's community recycling center accepts recyclable materials from 8 a.m. to 8 p.m. Mondays through Saturdays, and from 9 a.m. to 6 p.m. Sundays at the center south of the store, 3300 Iowa. The center is accessible off 34th Street.
Acceptable materials include: ¢ Glass: clear, amber and green ¢ Newspapers ¢ Cardboard ¢ White office paper ¢ Chipboard, junk mail and wrapping paper ¢ Magazines ¢ Steel cans ¢ Aluminum cans ¢ No. 1 plastic, such as 2-liter pop bottles ¢ No. 2 plastic (translucent), such as milk jugs ¢ No. 2 plastic (colored), such as laundry detergent containers ¢ No. 4 plastic and plastic bags, such as grocery bags, packing plastic and dry cleaning bags ¢ Inkjet printer cartridges
Copyright 2018 The Lawrence Journal-World. All rights reserved. This material may not be published, broadcast, rewritten or redistributed. We strive to uphold our values for every story published.