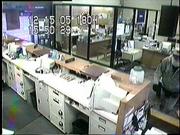 Lawrence Police say they are searching this afternoon for a white-bearded elderly man who robbed the US Bank at 1807 W. 23rd St.
According to Police Sgt. Dan Ward, the man, described as being in his 70s, wearing a denim jacket, baseball cap and a long, white beard, jumped behind the bank counter and left with an undisclosed amount of cash.
Police received the first call about the robbery at 3:52 p.m., Ward said.
The man then fled on foot, police said. According to witnesses there, the man never displayed a weapon during the robbery.
Ward said the robber was seen heading toward the Hobby Lobby, which is directly east of the bank. Police searched the store, but found no indication that the robber went in, Ward said. Police then searched through the surrounding neighborhood, Ward said.
The bank is closed and is surrounded by yellow police tape as officers continue to investigate.
Police ask that anyone with information regarding this robbery call 843-TIPS, an anonymous tip line.
Copyright 2018 The Lawrence Journal-World. All rights reserved. This material may not be published, broadcast, rewritten or redistributed. We strive to uphold our values for every story published.