Denver — Opposing offenses used to stay away from Champ Bailey because bad things seemed to happen anytime the ball went his way.
This year, thanks to a tweak in the Denver defense and Bailey's perceived vulnerability because of injury, he's seeing the ball more. Opposing offenses are paying.
So far this season, Bailey has a career-high eight interceptions.
"I look forward to getting them," Bailey said. "I want to get them every week. Hopefully, I can get two or three this week. You dream to get them."
Bailey has had an interception in each of the last five games, breaking a franchise record set by Tyrone Braxton in 1996.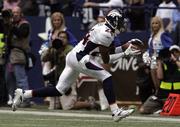 It has been quite a surge for Bailey, a player some thought wasn't worth what the Broncos paid when they traded away Clinton Portis to acquire him before the 2004 season. New rules that restricted defensive backs' contact with receivers further limited the impact a shutdown corner could have.
Bailey finished with only three interceptions last year, and though he was good enough to be voted All-Pro, many focused on the handful of big plays he allowed, and the fact that he and John Lynch weren't enough to revive a defense that got torched by Peyton Manning for the second straight year in the playoffs.
Bailey still gives up a big play now and then - see Terrell Owens' 91-yard catch and run in one-on-one coverage on Oct. 30 - but he is getting interceptions, too, a big reason the Denver defense has made more big plays en route to a 10-3 record.
To put him in position to have more of an impact, the Broncos massaged their defense in the offseason, allowing him to play off the receiver more instead of tight, man-to-man on the line. The result: Bailey can sit back, see plays develop and get good jumps on the ball.
"You could say it was pretty calculated," coach Mike Shanahan said. "He's a shutdown corner, but this just put him in position to do more things."
One play might have turned the Broncos' season - the break Bailey made on the first pass Drew Brees threw in the second half for the Chargers in Week 2.
The Broncos were reeling from a 34-10 loss in the opener to Miami. They were trailing 14-3 at halftime and the fans were booing. Bailey, playing a good 10 yards off the receiver, took an educated guess, got a good jump on Brees' pass and made an interception that he returned 25 yards for a touchdown.
Denver won that game, 20-17.
"If you play off, you can see more," Bailey said. "I started doing that. It's hard when I'm playing bump and run to get them. When I'm off, I can see more. I'm more comfortable with it and I usually have a chance to be in the right place."
The second part of Bailey's success may be because of his injury. His hamstring has bothered him since training camp and he also dislocated his shoulder in the season opener. He missed the first two games of his career this season.
So teams throw more to his side although the Broncos downplay that.
"I think some of that's overblown," defensive coordinator Larry Coyer said. "They're going to run their offense and we're going to play our defense. Sometimes, early, they might target a guy."
Copyright 2018 The Associated Press. All rights reserved. This material may not be published, broadcast, rewritten or redistributed. We strive to uphold our values for every story published.