Raleigh, N.C. — North Carolina State's players knew it would take a team effort to replace first-round NBA draft pick Julius Hodge.
So far this season, they're doing just that.
Ilian Evtimov scored 19 points Wednesday night to lead the No. 21 Wolfpack past North Carolina-Asheville, 86-56, giving N.C. State an easy tuneup before opening Atlantic Coast Conference play this weekend against Miami.
Cameron Bennerman and Gavin Grant each added 14 points in a balanced effort by the Wolfpack (7-1), who had six players score in double figures and had no trouble staying unbeaten in the series.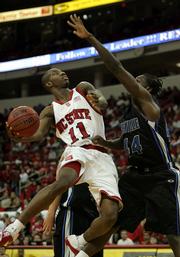 It was a solid all-around performance that fit right in line with the identity of this year's group. The Wolfpack knocked down the outside shots that are part of their "Princeton-style" offense - a label that appears to be wearing thin with the team - but got out in transition and used its athleticism to score plenty of easy baskets against the Bulldogs (1-5).
And while N.C. State's offense has had five different players lead the team in scoring this season, its defense also is causing plenty of headaches for opponents.
That's exactly the kind of play needed to offset the loss of Hodge.
"I think the main question everyone's been asking was, 'Who's going to replace Julius Hodge?'" Bennerman said. "This just goes to show you that it can't be one person. It has to be a team thing.
"There are plays to be made, shots to be taken, rebounds to be gotten. You have to go out and play and know someone has to do it."
Copyright 2018 The Associated Press. All rights reserved. This material may not be published, broadcast, rewritten or redistributed. We strive to uphold our values for every story published.