Bonner Springs — Chalk up another Free State High first.
Banaka Okwuone and Lauren Kimball were the catalysts as the Firebirds made history with a 45-37 girls basketball victory over Junction City on Wednesday night in the championship game of the Bonner Springs Metro Prep Classic.
No Free State High girls basketball team ever had won a tournament before.
"Nine years, and no girls team had ever won a (basketball) championship," said Kimball who led the Firebirds with 15 points, including 9-of-10 shooting at the free-throw line. "Last year we came so close."
Junction City edged the Firebirds, 46-44, in last year's Metro Prep Classic title game, and early on it appeared the Bluejays were going to make it two in a row.
"They were pressing us," said Okwuone, who snatched a game-high 16 rebounds. "They were quick, and I don't think we expected that."
Free State shot a dreadful 17 percent (4-of-24) in the first half, yet lagged by only a basket (17-15) at the break.
Photo Gallery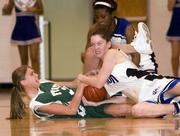 Free State vs. Junction City 12-14-05
"We struggled early," Free State coach Bryan Duncan said, "but Junction City's defense deserves the credit. My head was spinning just watching them."
Kelsey Harrison, a 5-foot-11 junior who contributed nine points, thought she and her teammates had "a bunch of jitters" in the first half.
"We all really wanted it bad," Harrison said. "We were really tense and nervous."
Harrison drilled a key baseline jumper with 4:24 remaining that climaxed an 8-0 run that turned a four-point deficit into a four-point lead the Firebirds never relinquished.
"I'm not really a very aggressive player," Harrison said, "but Lauren said, 'Shoot, shoot,' so I did."
As crucial as Harrison's basket was, Free State probably wouldn't have won if Kimball hadn't gone 6-for-6 in three trips to the free-throw line during fourth-quarter crunch time. The first two trips were nerve-wracking bonus opportunities.
"I knew it would come down to free throws," said Kimball, a 5-8 junior. "I told myself to calm down. I knew I had to do it."
Overall, the Firebirds converted 21 of 30 free throws while Junction City attempted only nine charities and made five.
"We tried to go to the basket," Duncan said. "We knew we'd get some fouls committed and get some free throws."
Duncan's team is junior-oriented. He has only three seniors - Okwuone, Tricia Dunham and Sarah Heider - yet the Firebirds are off to a 3-1 start.
"That shows the growth of our team," Duncan said. "You could tell the girls would find a way to get it done. Banaka was great. She had 16 rebounds, and I thought it was more than that."
Like her teammates, Okwuone couldn't contain her pride in the accomplishment.
"It was amazing," she said. "We've been working for this for a long time. Losing by two last year was really hard."
Kimball, Okwuone and Jenna Brantley, who struggled Wednesday night with only three points after scoring 35 in early tourney victories over Atchison and Topeka Seaman, were named to the all-tournament team.
Kimball, who scored in double figures in all three games, seemed a likely candidate for the most-outstanding-performer award, but it went to Junction City's Alex Hoover, who scored seven points against the Firebirds. The Bluejays' junior guard made only two of 12 shots.
Free State won't have much time to celebrate. The Firebirds will travel to Olathe South on Friday night.
Copyright 2018 The Lawrence Journal-World. All rights reserved. This material may not be published, broadcast, rewritten or redistributed. We strive to uphold our values for every story published.