Cincinatti — The wind swirled, the cold numbed and Carson Palmer looked like a transplanted Californian having no fun in the Great White North.
The Heisman Trophy winner from Southern Cal gave his worst performance of the season in a 23-20 victory over Cleveland, raising questions how he'll do when the weather gets worse and the stakes get higher.
The wind at Paul Brown Stadium was nasty Sunday, providing the ultimate home-field advantage - providing that the quarterback can handle it.
"We need to use that to our advantage because our stadium is different, like a couple of other stadiums around the league," Palmer said Wednesday. "And we need to get a better feel for exactly where the wind comes from and how it comes through."
He rarely encountered Jack Frost as a high school and college quarterback in California. Palmer started learning about the joys of winter on a daily basis during his 2003 rookie season in Cincinnati.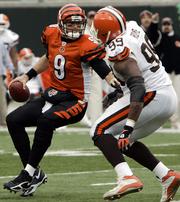 The Bengals are one of the few northern teams that don't have a covered practice facility for when the weather gets raw, a sore point with coach Marvin Lewis. So, they practice in the cold, rain and wind.
Palmer took over as the starter last season and did all right in his first experiences with wintry weather. One of his best moments came two weeks ago in the biting cold of Pittsburgh, where a 38-31 victory put the Bengals (10-3) in control of the AFC North.
He prefers to think of his showing against Cleveland as an aberration, not an indication he's a fish in frozen water.
"We practice in it every day, without having a bubble to practice in," Palmer said. "You practice in the worst weather and you throw in the worst weather. So I'm used to throwing in it."
He's admittedly not used to feeling it. After a workout on the field Wednesday morning, Palmer walked into the locker room with his bare hands pulled up inside the sleeves of his gray hooded sweatshirt. His red nose sniffled.
"It's cold out there," he said.
The thought of playing in Detroit's indoor stadium Sunday quickly warmed him.
"I love playing in a dome," he said. "I'm excited. Being a quarterback, you've got perfect weather, great footing, no wind, no snow, no rain. Quarterbacks and receivers, I assume, all love doing it."
And kickers, of course. Bengals kicker Shayne Graham understands why Palmer was wary of the wind Sunday. Graham's 37-yard field goal into the wind on the final play beat the Browns.
One more victory will clinch the AFC North and ensure at least one playoff game at Paul Brown Stadium, letting the winds come into play again.
"I've been in the stadium where all four ribbons on top of the goalposts were blowing toward each other," Graham said Wednesday. "It doesn't make any sense, but I've seen it. That's just what happens when you've got so many surfaces for the wind to blow against."
At Paul Brown Stadium, the sideline seats are high and the end zone seats are low, allowing the wind to race through. It caroms unpredictably off the stands and sometimes blows opposite to the way the flags atop the field are blowing.
"Sometimes you're not sure where it's coming from, and it really swirls," Palmer said.
He considers his shaky performance against Cleveland - 13-of-27 for 93 yards and a costly interception - as nothing more than a rare off day. It was only the second time all season he had a passer rating below 100.
Given how well he had played, he was due for a clunker.
"I missed some easy balls that I don't normally miss," Palmer said. "There's no excuse and no reason I should do that. I just didn't play my best, and I'm going to need to play better in the future."
Particularly when the flakes are flying and the wind is howling.
Copyright 2018 The Associated Press. All rights reserved. This material may not be published, broadcast, rewritten or redistributed. We strive to uphold our values for every story published.