Nick Hartigan bulled through defenses on his way to a record-setting championship season for Brown and earned a spot on the Associated Press Div. I-AA All-America team.
The Rhodes Scholar interview didn't go quite as well.
The day before Hartigan set an Ivy League mark for career touchdowns and helped the Bears win their first outright league title, he faced a panel of eight scholars, who questioned him about his thesis on the role of religion in politics.
"The scary part is they can challenge what you answer," the political science major said recently. "These people are brilliant people, and they come back with something, and immediately you're second-guessing everything you just said. So that was tough."
Probably not as tough as Hartigan was on opposing defenses. The senior ran for 1,727 yards, tops in the nation, and scored 21 touchdowns. He finished his career with 52 touchdowns in four seasons, topping the Ivy League record of 50 set by Cornell's Ed Marinaro in three years.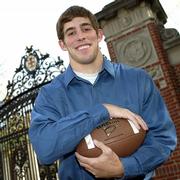 Joining Hartigan on the All-America offense were Eastern Washington quarterback Erik Meyer, who leads I-AA with 4,003 yards passing; and Portland State running back Joe Rubin, who ran for 1,702.
The wide receivers are Laurent Robinson of Illinois State and David Ball of New Hampshire. Ball's teammate, Jonathan Williams, is the tight end.
The offensive line features five seniors: Paul McQuistan of Weber State, Jeff Bolton of Montana State, Matt Magerko of James Madison, Chad Motte of Georgia Southern and Stafford Davis of Illinois State.
Magerko, Cal Poly defensive end Chris Gocong and Massachusetts safety Shannon James made the first team for the second straight season.
Defensive lineman Brent Hawkins gave Illinois State three players on the first team, the most of any school.
Rounding out the defensive line are Fred Evans of Texas State and Marques Murrell of Appalachian State, which will play in the I-AA championship game Saturday against Northern Iowa.
The linebackers are Justin Durant of Hampton, Maurice Bennett of Lafayette and Willie Freeman of Furman.
James leads the defensive backs with Princeton's Jay McCareins, who leads the nation in interceptions with nine - including two he returned for touchdowns.
The other defensive backs are Tony LeZotte of James Madison, a sophomore who was a second-team pick as a freshman, and Reed Doughty of Northern Colorado.
Wes Taylor of Florida A&M; was the punter, Jarrett Johnson of Idaho State the kicker and Bethune-Cookman's Ricky Williams, the all-purpose player.
l List on page 7C
Copyright 2018 The Associated Press. All rights reserved. This material may not be published, broadcast, rewritten or redistributed. We strive to uphold our values for every story published.