The Lawrence Community Shelter has been given another three months by city commissioners to work with its neighbors to iron out concerns about the downtown homeless shelter.
Commissioners Tuesday night agreed to extend the permit for the shelter - located at 10th and Kentucky streets - for three months. But commissioners also directed the city's Community Commission on Homelessness to examine how the shelter could better work with neighbors who have expressed concerns about loitering and the number of police calls at the shelter.
"I'm hoping that we can work together as a team," said City Commissioner Sue Hack. "It is an important issue. We are a compassionate community, but we also have expectations and want to protect surrounding property owners."
Commissioners received about two hours of public comment on the issue, hearing from both supporters of the shelter and neighbors who believe that the shelter has not lived up to its promises since opening in December of 2003.
People from both sides of the issue, though, agreed that there needed to be a discussion about finding a long-term location for the shelter - which is one of two in the city, but is the only shelter that accepts individuals who have been drinking.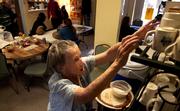 "I'm for all the goodness that everyone can do, but on the other hand you have people who are just asking (shelter) management to follow through on what they've promised," said Bob Schumm, a downtown business owner. "Maybe this is the wake-up call the city needs to get going on finding a location that will really work well."
Proponents of the shelter didn't object to that thinking, but said the city shouldn't take any action to hurt the shelter in the meantime.
"What we should have here is a hearing on how to build a better shelter, how we can create a system that we don't have to turn people away, what we can do to create more affordable housing," said Hilda Enoch, a longtime advocate for the homeless. "We have real problems to be solved, but to shut down this shelter or limit it in any way won't solve any problems."
The shelter's director, Loring Henderson, also told commissioners that he did not think the current facility was a good long-term location because the building was too small and it was on the edge of a residential neighborhood.
Helen Hartnett, co-chairwoman of the homeless commission, said it likely would not be able to tackle the issue of a new location for the shelter during its three month review. But she said the commission could help ease tensions between the neighborhood and the shelter.
"We hope we can come up with a strategy to create ongoing communication between the shelter staff and the neighborhood groups," said Hartnett, who teaches at Kansas University's School of Social Welfare.
The homeless commission is newly formed and replaced the city's Task Force on Homeless Services, which disbanded after it presented its final report to city commissioners earlier this year.
Members of the new commission are: Katherine Dinsdale, Loring Henderson, Shirley Martin-Smith, Sara Taliaferro, Barbara Hogue, Ed Brunt, Jane Faubion, Kim Gouge, Phil Hemphill, Robert Mosely and Hartnett.
By the numbers
Here are the types of incidents police officers have been dispatched to investigate at the Lawrence Community Shelter from Jan. 1 through Nov. 25: ¢ trespassing: 50 calls ¢ medical emergency: 43 ¢ request for officer: 28 ¢ battery: 23 ¢ disturbance, no weapon: 16 ¢ disturbance with weapon: two ¢ drugs: five ¢ theft: 10 ¢ threats: seven ¢ wanted person: four
Copyright 2018 The Lawrence Journal-World. All rights reserved. This material may not be published, broadcast, rewritten or redistributed. We strive to uphold our values for every story published.