Indianapolis — Tony Dungy wants his team focused on four things:
Improving, staying healthy, building momentum and protecting its home field. Anything else, like going unbeaten, is a bonus.
"Our only goal right now is to improve and be better when we hit January," the Indianapolis Colts coach said. "We just want to keep getting better in practice and games."
With three weeks left in the season, the Colts have wrapped up all of their stated regular-season goals. An unbeaten season seems to be only incidental.
But how much better can they get?
The Colts (13-0) lead the league in scoring and have allowed the NFL's second-fewest points. They are the only NFL team to rank in the top 10 in passing offense and defense; rushing offense and defense; overall offense and defense; and turnover margin.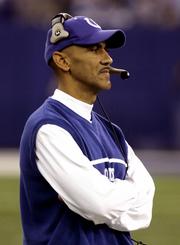 But others prefer judging the Colts by a higher standard - perfection. Only four NFL teams have gone 13-0, and a win Sunday over San Diego would make the Colts the second team in league history to be 14-0. Miami did that in 1972.
The other teams who came this close were the 1934 Chicago Bears and the 1998 Denver Broncos. They went 13-0 before both lost to the New York Giants, the '34 team in the NFL championship game.
While the chase for a historic season has become the hot topic of discussion, the Colts insist that the goal of going undefeated never was - and still isn't - their motivation.
"We've really not talked about it," Dungy said. "I think that's one of the reasons we've been able to stay loose. We've really not sat here saying for the last eight weeks, 'Wouldn't it be great.' I'm sure if we win this one and get 14, I'm sure it will be talked about a little more."
With each victory, the quest has generated more intensity.
When the Colts survived close calls the first three weeks, many wondered what was wrong with the offense. When they won their next four by lopsided margins, many suggested the Colts had played an easy schedule and questioned whether they could beat their old nemesis, two-time defending Super Bowl champion New England.
It wasn't until back-to-back wins over Cincinnati and Pittsburgh, which made them 11-0, that the possibility of an undefeated season became the topic du jour.
But with San Diego, Seattle and Arizona left in the regular season, and what the Colts hope are three more postseason games, many are now asking whether anybody can beat them.
In Indianapolis, players are following Dungy's advice to keep things in perspective.
"What we're doing on the field speaks for itself, it doesn't make any difference what people say," center Jeff Saturday said after the Colts' win Sunday in Jacksonville. "You have to come out on Sunday and do it then. ... We don't have to talk about it, we just go out and play."
Blocking out distractions could become more difficult over the next few weeks.
Indy already owns the No. 1 seed in the AFC playoffs, so Dungy has been bombarded with questions about playing his regulars for the rest of the season and whether it's worth resting them when the Colts have a chance to go 16-0.
In Dungy's opinion, there's no debate; he'd take a Super Bowl win over a perfect record any day.
The Colts have been here before. Last year, they were badgered as Peyton Manning chased Dan Marino's single-season touchdown mark, and that experience, Dungy believes, has paid dividends.
"I think it's good preparation for trying to win a Super Bowl because you have to deal with the same kind of thing there, too," Dungy said last week.
The Colts have proven they can win low-scoring battles and shootouts, come from behind or protect leads, win on the ground or through the air.
What Dungy wants is for the Colts to finish this season the same way they've played the first 13 weeks - determined, focused and motivated to achieve their last elusive goal, winning a Super Bowl.
"You want to play impressive, you want to practice well," Dungy said. "But you want to get the guys just enough work that they stay sharp and continue to get better."
Copyright 2018 The Associated Press. All rights reserved. This material may not be published, broadcast, rewritten or redistributed. We strive to uphold our values for every story published.